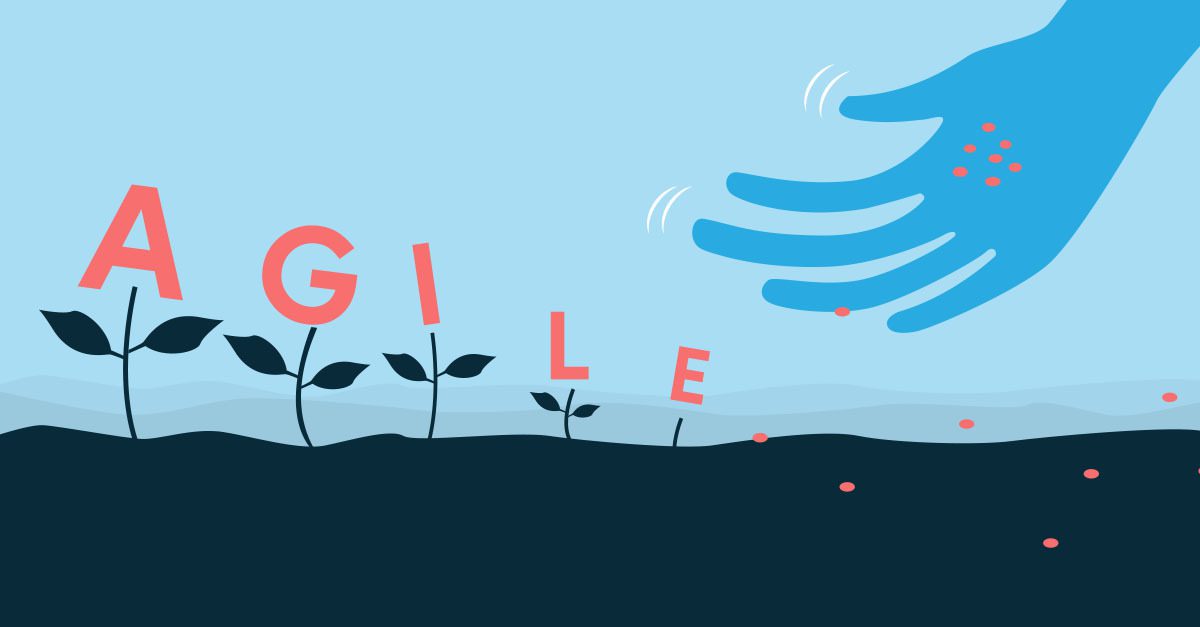 In a rush to adopt Agile and benefit from its potential impact, many organisations are overlooking what it takes to successfully integrate Agile in the workplace. Here we share our top 10 tricks to embed Agile and ensure your transformation effort lives up to its promise.
So you've upskilled your people with Agile training, you're ready to implement these new ways of working across your organisation, and you're eager to benefit – hopefully – from the transformative effect you've heard so much about. Now, what comes next?
Typically, many Agile transformation initiatives fall short and this is often the result of a failure to embed Agile effectively across the organisation. Fortunately, however, our experience has shown us that there are some tips, tricks and best practice methods that can help steer your transformation to success.
Be situationally aware
Agile is an umbrella term for a growing collection of frameworks, approaches, methods and principles – all of which have their relative strengths when applied in the correct context. But the context is often lost where a specific flavour of Agile is added or grafted on to an organisation without understanding whether it is appropriate for the environment. Be aware of the 'Silver Bullet syndrome' and know where your pain points are to help apply the right method, framework or hybrid approach to address them.
Look beyond frameworks
Yes, frameworks can be an important element of your overall strategy. But a framework by itself, whether it be Scrum, AgilePM®, SAFe®, Nexus, XP, or anything else, is not the 'be all and end all' of Agile. There are other Agile methodologies that are lighter weight but just as effective to help support Agile and agility principles. Agility extends to everything that an organisation does, from the way it structures its teams and engages with the market, to the way it sets and prioritises strategy and creates its culture. Don't get too focussed on the framework and be prepared to look more broadly or even integrate various methods or practices into your own Agile delivery framework to deliver value.
Go outside technology
Traditionally, most Agile initiatives were born, lived and died entirely within IT, technology or digital departments. As a result, the transformative value to the host organisation was only contained to one part of the business, and when Agile was applied outside of their 'home', many failed. It is important to understand that in order to reach a state of business agility, Agile principles should be applied to every part of an organisation.
Start with a bold vision
All too often, the vision and benefits of transforming to an Agile operating model are lost down in the weeds. The initiative's scope becomes limited to those practitioners within the delivery teams, and as a result the transformation struggles to scale up. Be bold and define what a true enterprise-wide Agile organisation looks like. Plant that flag on the hill and get everyone aligned behind the end goal. Most importantly, gather buy-in early and ensure everyone knows why there are doing it.
Engage leaders
True business agility is a transformative initiative that involves cultural change and a shift in the strategic capabilities of the whole organisation. Bottom-up transformations can only impact strategy and culture to a limited degree. True cultural change needs to start at the top, with engaged, informed and involved leaders who drive the transformation with authenticity – and the most successful efforts are those which combine both top-down and bottom-up approaches.
Remember, people first
At their core, Agile and agility principles are all about people and encouraging collaboration, not only between individuals but also between teams, programmes, portfolios, departments and entire organisations. A framework, practice or a process by itself is not going to make your organisation Agile – you need to start with your greatest asset, your people. Changing mindsets, culture and the way people approach their work is not easy, but this is where the biggest focus needs to be.
Create an Agile mindset
As a corollary to the above, to mature towards organisational or business agility you need to foster an Agile mindset. A mindset that can embrace change and not focus on output and project delivery, but on outcomes and value delivery – one that considers their customer first, is comfortable to fail fast and foster learning, and is able to think more like a venture capitalist and less like an regulatory auditor.
Use Agile to implement Agile
The Agile mindset is a learning mindset – it is based on setting up a hypothesis, building, testing, measuring and learning. The way in which you implement and rollout your Agile transformation should be no different – and is, in fact, both the best way to implement and the best way to learn and instil the foundations of agility. Don't try and change everything overnight – Agile is not a binary state, but is an infinitely graded spectrum upon which an organisation moves. Start small, and learn and grow as you mature along this journey.
Create predictable outcomes
A tried and tested approach to rolling out Agile, and one that fits in well with using Agile principles, is to create stable and cross-functional teams. Try this three-step method:
Start small with a high-potential team, design and implement an appropriate flavour of Agile for that team, and work with them to become rock stars.
Harness their momentum, or as we say track their 'velocity' to work out the teams predictable output, and build trust with this predictable output to forecast an accurate outcome.
Find your next potential rock stars that can deliver with similar consistency to build on the predictable nature to give your organisation and its people the business agility they are all desperate to have.Now the organisation can understand how complex it is to deliver within the existing process and identify ways to improve delivery using these experienced teams and deliver consistent outputs. Before long, your Agile transformation will become self-replicating as it grows throughout the whole organisation, and these teams become more aligned to deliver many more programmes or portfolios of work at scale with similar predictability.
Secure expert help
Lastly, don't ever feel that you're alone in this new agility frontier. PM-Partners has guided hundreds of organisations at all levels of their Agile journey with our portfolio of Agile services, including providing specialist coaches to help embed newfound skills. Now with our new Agile in Practice workshop, it's easier than ever to tap into this expertise. Ideal for individual practitioners and teams who have recently completed one of our Agile training courses, these virtual sessions also provide the opportunity to learn from others at a similar stage of Agile development. Best of all, we draw on real-time data to pinpoint areas for improvement and provide every participant with a tailored, tangible growth plan to help them successfully apply their skills and keep your organisation's transformation moving.
Contact our Agile experts today to learn more about how we can provide the insights, support and resources you need to help you on your Agile journey, or call 1300 70 13 14.
For those interested in capturing further insights into team and individual capabilities, PM-Partners is currently seeking feedback on a new Capability Hub. Integrating 360-degree assessments in disciplines such as Agile, project management and change management, the platform provides organisations with the ability to measure and track performance and monitor improvements over time, informing and adding value to their L&D efforts.
AgilePM® is a registered trademark of Agile Business Consortium Limited. All rights reserved.
SAFe and Scaled Agile Framework are registered trademarks of Scaled Agile, Inc.