Our passion is to inspire and help our customers succeed.

The PM-Partners core values provide the foundation of our organisations culture. Our core values guide the way we interact with each other and our customers.
Our values are: integrity, excellence, courage, innovation, collaboration and respect.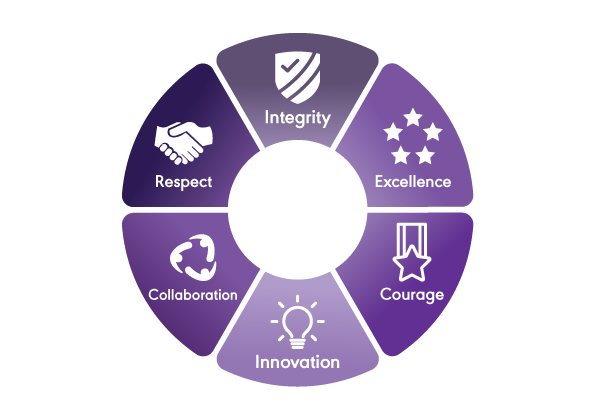 Our People
Employee engagement and the wellbeing of our team is something we, at PM-Partners, take seriously. We see it as a competitive differentiator when it comes to attracting top talent, which is the cornerstone of successful engagements with our clients. Our people create our culture, which delivers successful outcomes for our clients.
Each year, PM-Partners participate in the Gallup G12 Employee Engagement survey. The Gallup G12 survey is a way for businesses to benchmark themselves across global organisations of all sizes and verticals. As such, it provides an industry standard approach to measure employee engagement.
PM-Partners are extremely proud of our most recent Employee Engagement survey, the overall results placed us as a company in the 79th percentile when compared to other global teams.
Giving back
PM-Partners understands the importance of corporate social responsibility – to empower our employees and to give back to our community. In 2020, PM-Partners are proud to sponsor Beyond Blue and grassroots sport through The St Peter's Swim Club.
Workplace Gender Equality
PM-Partners are proud to be fully compliant with the Workplace Gender Equality Act 2012, as demonstrated by our notice of compliance with the Act for the most recent 2019-2020 reporting period.
Equal Opportunity Employer (EEO)
At PM-Partners, we pride ourselves on being an Equal Opportunity Employer (EEO).  We have a strong culture of diversity and multiculturalism, and actively encourage an inclusive and diverse workforce embedded throughout the organisation, with a mix of gender, race, nationality and sexual orientation.  We employ practitioners from a range of different nationalities and ethnic backgrounds and have a culture of hiring and promotion that is founded on merit-based criteria such as experience, ability, and the contribution a person can make to PM-Partners. As such, PM-Partners are proud to have a diverse rich population of employees and contractors throughout our business, and equality and diversity form an important part of our culture.
Diversity Policies and Procedures
PM-Partners have dedicated policies and procedures in place in respect to diversity and inclusion and workplace gender equality which are applicable to all members of the organisation, which demonstrate our commitment to embracing diversity within the organisation.
Flexible working and support for employees with Family and Caring Responsibilities
PM-Partners are proud of the flexible working practises that we have in place that we endeavour to make available to all work participants upon request. This may include, but is not limited to, having the option to work from home, to flex a workers hours in order to suit their personal circumstances and implementing job share arrangements.
An Advocate for Women and Minority Groups
At PM-Partners our commitment to equality and diversity as a business includes actively working with indigenous partners to increase the number of trained and certified project management professionals within the indigenous community.
Acknowledgements
We acknowledge the Traditional Owners of country throughout Australia and recognise their continuing connection to land, waters and culture. We pay our respects to their Elders past, present and emerging.