Enabling business agility through alignment and accelerated delivery.
The PMOs traditional role of providing consistency is now expected, the PMO must continuously be analysing and improving its ability to provide predictability of business outcomes and deliver value at an accelerated pace.
Agile changes the way of working, not only across project and technical teams but across the business.
PMOs can play a powerful role in helping facilitate the successful implementation of Agile to ensure full value is delivered while minimising the disruption of ongoing business. The Agile PMO strives to bridge the gap between a perception that everything about traditional project management is wrong and that agile is the only way. The Agile PMO is less about fostering one sole methodology and more about adapting components of what works to deliver fast and tangible outcomes.
Our Agile PMO Framework helps PMOs evolve this journey.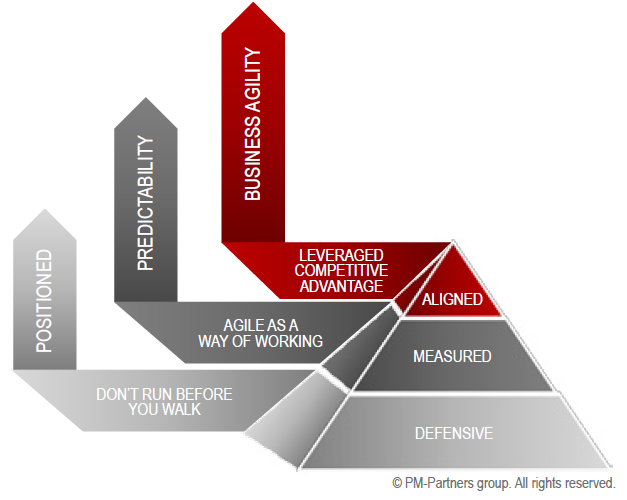 When agile teams and the traditional PMO meet in the middle it is surprising how quickly the approaches of new and old can co-exist and mature over time to improve and accelerate business value.
While the agile team focus on fast delivery, the PMO can draw together and broadcast progress across both agile and traditional projects, clarify and evolve the journey, help the organisation embrace the change and prioritise investment over reward.
Agile adoption means the PMO must rethink their role, it must continue to advance its value to become a strategic asset to the business and Executives. This often involves shifting from a compliance and control focus to one of advice, consultation and support whilst establishing consistency and value with hybrid models.
What we can do for you: