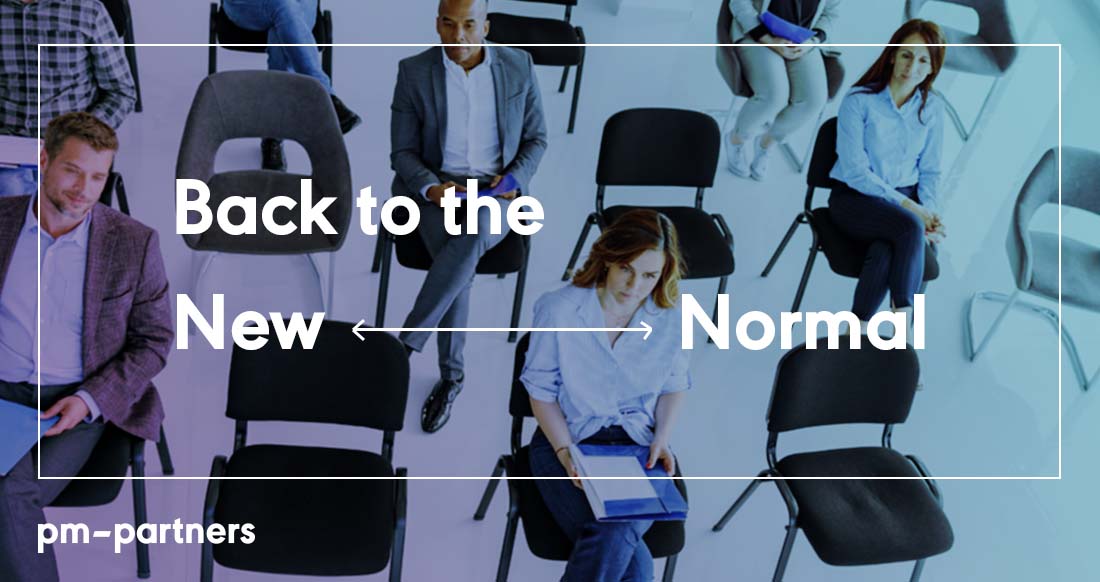 Think back a year: what were you doing? Busy with work, planning a ski trip, wrangling a young family, off on an overseas holiday? Ah, normality… those were the days.
Fast-forward to 2020: a global pandemic has kept us in relative lockdown for months, with its long-term financial and mental toll still yet to be fully realised. Who would have imagined just 12 short months ago where we would be right now? We have endured a lengthy spell of 'iso', tackled the challenges of working from home, come to grips with videoconferencing and sought to improve ourselves professionally via virtual classroom training.
It's been a journey, if not a rollercoaster for organisations, teams and individuals. The situation has presented many hurdles, but there have also been opportunities amid the mire.
So what now? We all talk and speculate about getting back to 'normal', but as the reality of social distancing continues, what does normal even mean?
TIME TO REGROUP AND ACCEPT THE NEW NORMAL
Here at PM-Partners, the past few months have been an interesting and hectic time for our training team. Like so many others have experienced; flexibility, adaptability, learning on-the-fly and balancing new ways of working, have all been incredibly vital to staying afloat.
Empowerment, clear decision-making and teamwork meant we were able to quickly pivot from face-to-face classrooms to virtual training – including introductory workshops like Project Management Fundamentals and Business Analysis Fundamentals, to certification workshops such as Leading SAFe®, PRINCE2® and AgilePM®.
We moved fast in those early days, but recently we have taken the time to literally stop, regroup and, in effect, do a retrospective. It is just as important now as always to reflect on what has happened and identify actions for improvement:
What worked well?
What didn't?
What actions can we take to improve going forward?
While many of our trainers and clients are looking forward to being back in the classroom for face-to-face learning – whether it's helping you master the art of change management, or any number of project management training courses – we have to acknowledge that virtual instructor-led training is here to stay.
REOPENING OUR TRAINING CENTRES
After weeks of careful planning, we are excited to share that our Training Centres will reopen from Monday 29th June. Basically same-same but different.
The health and safety of our clients, visitors, trainers and staff is of course paramount, and we will ensure strict hygiene measures are adhered to so we can provide the safest and most comfortable learning environment possible.
Here's what we are doing to comply with the appropriate government guidelines:
Classroom capacity reduced to ensure physical distancing
Routine cleaning and disinfection
Hand-sanitiser stations
Temperature checks
Pre-packed stationery
Individual catering
BUT WHAT ABOUT VIRTUAL TRAINING?
Given the obvious benefits of virtual training, including increased flexibility and cost-effectiveness with no travel time, our standard training offer now includes classroom, virtual and online – the choice is yours starting from 29th June.
LOOKING TO THE FUTURE…
We will continue to listen to you, our customers, about your preferred mode of training. Every organisation needs trainers to be flexible, adaptable and willing to embrace different ways of working given the ever-changing global environment. And that's exactly what we plan to do.
To find out more about PM-Partner's upcoming courses, check out our training course list.
PRINCE2® is a registered trade mark of AXELOS Limited, used under permission of AXELOS Limited. All rights reserved.
AgilePM® is a registered trademark of Agile Business Consortium Limited. All rights reserved.
SAFe® is a registered trade mark of Scaled Agile, Inc.