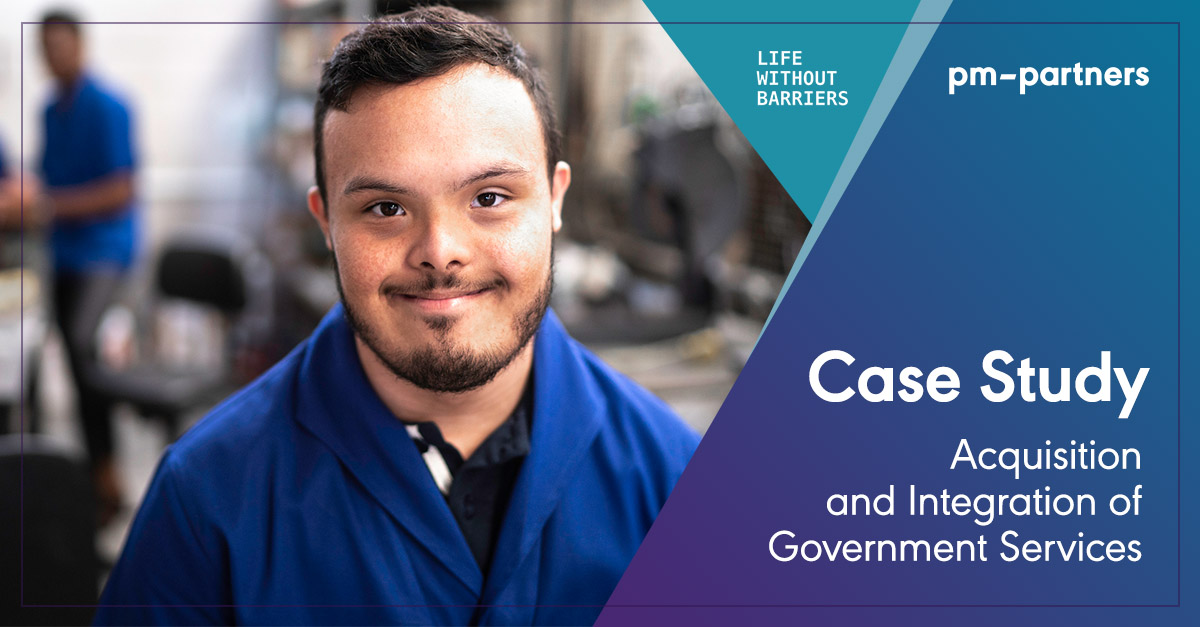 CHALLENGE
Life Without Barriers, one of Australia's largest leading social purpose, not-for-profit organisations had a six-month deadline for completion of acquisition, integration, transfer and 'go-live'. PM-Partners used its experience gained from large scale change, transformation and M&A integration programmes to help the company move from running operations in 'business as usual' format, to ensuring systems and processes for existing services were transferred to the 'new world' with no discernible impact to clients or staff. This would all take place against a backdrop of stringent regulatory compliance and human complexity from the nature of services being delivered.
SOLUTION
PM-Partners undertook an assessment of services to be provided, defined the revised organisation structure, ensuring continuity of business and quality of care during the transfer of responsibility and ownership. PM-Partners commenced a series of planning exercises with the outcomes and recommendations delivered to the Board. This comprised of a structured way of thinking about how to manage the volume of work involved, the risks, as well as what needed to change and what could be dispensed with. Part of this involved absorbing and adhering to no less than 680 policies and procedures related to compliance and regulatory standards. PM-Partners deployed a filtering process for the lines of business and processes, such as work practices, payroll, industrial relations and rostering among others. These were co-designed with the various teams that would normally be responsible for administration of these policies to ensure accountability under the new ownership. PM-Partners continually emphasized what the day one 'must-haves' were in terms of service provision and support to ensure ongoing prioritisation of the critical elements. It also ensured a focus on Life Without Barrier's key pillars of people, culture and safety, and supported the implementation of a governance model. The integration was relatively straightforward in terms of running as a programme, the complexity came from a significantly reduced timeframe, embedment of change, and from helping people in the program to balance program work and BAU tasks.
BENEFIT / RESULT
During the six-month timeframe, Life Without Barriers also built and created a new intranet, and ensured award conditions were maintained for staff. Filtering through the 680 policies to ensure they are understood and maintained, with correct accountability. Overall, 800 unionist staff, 600 clients and associated assets were transferred with very little impact. The internal team has gained M&A integration, project management and leadership skills from the program, and stronger collaboration has driven transparency between the lines of business, together with the ability to problem solve to share the load.