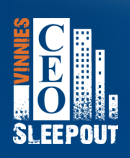 There are more than 100,000 Australians who find themselves homeless each night of the year. Just under half of these are women; a quarter are under the age of 18.
The discomfort of sleeping on the streets is a fragment of the larger reality Vinnies hope to impart upon influential leaders of the community as part of the Vinnies CEO Sleepout.
PM-Partners group are proudly supporting this cause, with Nik Samuelson participating in the CEO Sleepout on June 19th and we have made a commitment to match Nik's proceeds to help raise awareness and fight the issue of homelessness.
Please support this great cause and help Nik reach his $5K target.

More about the cause.
Date & Time: Thursday, 19 June 2014
From: 6pm for Registration
Location: Carriageworks & Eveleigh Markets, 245 Wilson Street Eveleigh NSW 2015
Rules:
Clothing
It's going to be cold. And maybe wet as well. Make sure you wear warm, casual clothes.
Bedding
Bring your own sleeping bag and a pillow. Cardboard will be provided for you to sleep on or build a shelter. No airbeds or luxury bedding items allowed!
Food
You can't bring your own, sorry. A basic meal of soup, bread rolls, tea & coffee will be served on the night. Breakfast will also be provided in the morning. Alcohol is strictly off limits.
Weather
This is an experiential event which introduces you to what it's really like to sleep rough. Regardless of the weather, the event will go ahead – so there are no excuses! An undercover area will be made available in the case of rain. If you are ill on the night of the event we ask that you not attend.
In the Morning
Breakfast and coffee supplied by our generous sponsors will be served from 5am the morning of Friday 20 June. There are no official proceedings in the morning but participants are free to stay and mingle with their peers and Vinnies staff until 8am. Please respect the neighbourhood residents in leaving the venue quietly. If you require a taxi pickup there will be a dedicated Taxi Zone inside the venue grounds. Entry to this Taxi Zone is from 239 Wilson Street, Eveleigh. The driveway is located just off the intersection of Wilson Street and Queen Street.