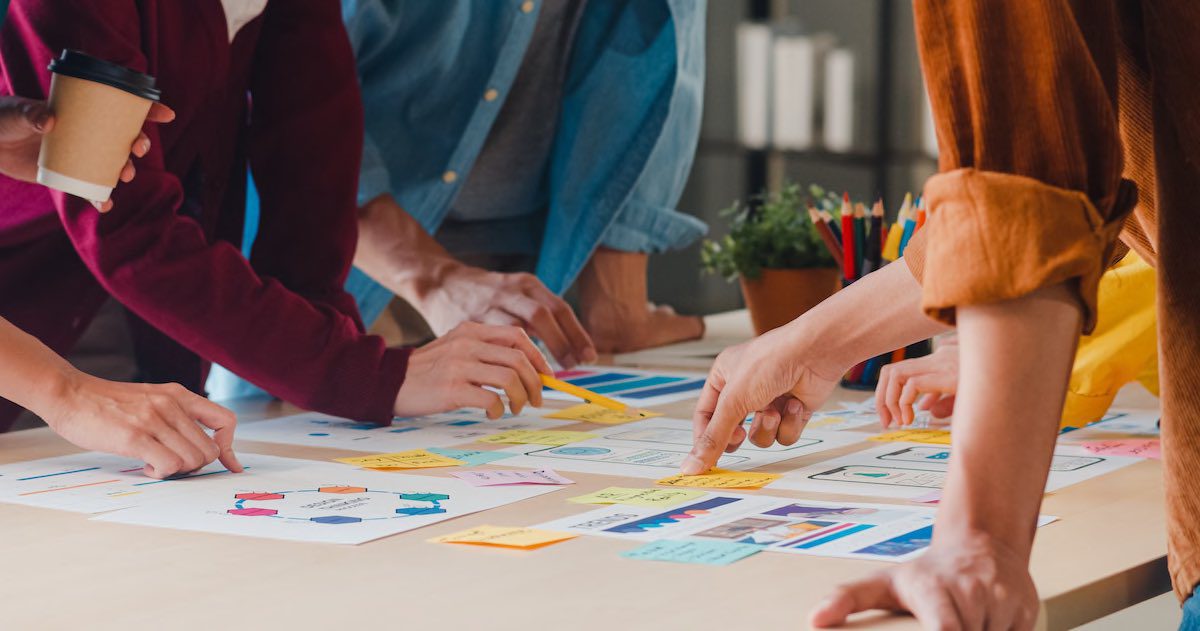 Planning Increment (PI) planning is a foundational event for the Scaled Agile Framework® (SAFe®); it requires regular collaborative alignment between teams and stakeholders. PM-Partners Agile Learning Consultant and Facilitator Quinn Dodsworth explains what to expect and how to prepare for your first PI planning event, whether you're an agile team member, release train engineer or product manager.
Planning Increment (PI) planning is an essential event in the practice of the Scaled Agile Framework® (SAFe®). Slated to last two days every interval – a period generally between 8-12 weeks – a PI planning event is a chance for a range of direct stakeholders to interact and collaborate with one another to ensure there's alignment for the iteration's next outputs and outcomes.
By the end of a PI planning event, stakeholders should be able to:
Define a shared vision and mission
Produce planning increment objectives
Produce an agile release train (ART) planning board visualising dependencies and identifying key milestones
Identify dependencies among teams
Identify risks and contingencies for the forthcoming planning increment.
What happens at a PI planning event?
 The PI planning event is an opportunity for different teams to meet, build rapport and collaborate with other teams and stakeholders. It's as much a part of the social foundation of scaled agile as it is a functional meeting to produce common goals for the upcoming iterations based on the shared vision and mission.
In general, it's helpful to understand the SAFe mindset that seeks to align everyone – team members and stakeholders – at scale. Therefore, participants should expect a large representation of teams at the event and be prepared to hear suggestions and feedback from a spectrum of expertise in the room to identify the ideal value for the customer or business.
Who attends a PI planning event?
According to SAFe, "the people who do the work plan the work"; in other words, every direct stakeholder involved should attend the PI planning event.
This includes:
Release train engineer (RTE)
The business owner/s
Product management
Agile teams (team leaders may represent other members)
System and solution architect/s
System team and senior development managers
UX/UI and other shared services
—and any other key stakeholders involved in the increment.
The PI planning event agenda
The SAFe authors have set out an example agenda of the two days; you can also read our beginner's guide to PI planning for an overview.
To prepare for a PI planning event, each team should stage its own pre-PI planning session to develop the business and solution context for the main event and establish input objectives and milestones in accordance with the team's expertise and capabilities. Team leaders representing the members should also evaluate the team's capacity in order to offer realistic estimates for work going forward. 
When the two-day PI planning event begins, expect three main parts:
Establishment of the business context, product context and team context.
Creation of draft plans, including outputs and team capacity.
Review of plans, risks and interdependencies – adjustment of plans if required.
One critical aspect of this event is also the development of the organisation's understanding and practice of scaled agile – recommended levels of learning and understanding are outlined on the SAFe® Implementation Roadmap.
At the end of the event, teams should also undergo a post-PI planning session, to integrate the outputs into the wider vision and roadmap for the value stream. Teams may also commit to planning increment objectives to be demonstrated at the forthcoming solution demo. This allows the RTE to build a unified plan for the next planning increment.
The PI planning venue
The PI planning event is considered so crucial to the practice of SAFe that all parties are expected to attend, ideally in person, even if they are not usually co-located – perhaps especially if they are not usually co-located – in order to strengthen social connections.
PI planning can take place in any sufficiently large meeting space that is conducive to collaborative work and will allow for smaller team breakouts. With advancements in video-conferencing and better management of remote teams, it's possible to hold the PI planning event online or in a hybrid manner, though SAFe authors advocate in-person events to encourage social cohesion.
Preparing for your PI planning event 
Different stakeholders play different roles at a PI planning event. Here's a guide to how they should prepare.
RTE or lead Scrum master
Before: Set the objectives of the event; review the product backlog; identify potential issues to be discussed.
During: Ensure all stakeholders are actively engaged in the planning process; identify stakeholder needs and priorities; ensure all parties are across risk identification, resolution and mitigation, and ownership.
After: Review the PI plan; establish understanding and commitment from stakeholders; monitor progress; prepare for next planning interval.
The Business owner/s
Before: Prepare overview of business context including status report on business, portfolio and customer needs.
During: Present on current state of the business and portfolio vision; provide a planned value evaluation of current solutions.
After: Review the PI plan and elements to be evaluated for the next PI planning event.
Product management or lead product owner
Before: Prepare overview of current vision; create status report of changes incurred and milestones reached since last interval (ignore, if this is the first event). Have a prioritised product backlog ready for teams to deliver the highest value features in the next interval.
During: Present overview; share status report.
After: Review the PI plan; monitor changes and milestones.
Agile teams
Before: Identify backlog (feature/stories) items to be broken down to realise solution features (ignore if this is the first event); evaluate team velocity and capacity.
During: Estimate capacity for the next interval; draft plan for next series of iterations.
After: Review the PI plan; schedule activities as relevant.
System and solution architect/s
Before: Prepare technical and architecture vision; identify any potential changes to development practices to improve uptake of scaled agile and incorporate these into the architectural runway.
During: Present technical and architecture vision; share and discuss potential changes to SAFe development practices; field stakeholder issues and feedback with regard to SAFe development.
After: Review the PI plan; identify opportunities to improve development practices; develop actionable steps towards improvement and incorporate further enablement into the architectural runway.
PI planning event challenges
As with any collaborative effort, the biggest challenges are often interpersonal. If your teams don't know each other well, it's a good idea to schedule some time prior to the two days for them to meet and develop rapport in a more social setting and neutralise any potential conflict.
The RTE should also consider extra training as a facilitator to foster inter-team cohesion and create a psychologically safe space for participants to share, challenge and engage in ideas. This role starts prior to the PI planning event with good communication about expectations, from the information each party needs to prepare, to the participation levels and engagement expected on the day.
If your PI planning day is remote or hybrid, it is a good idea to create more structure around presentations, sharing, discussions and breakouts to ensure each participant has a chance to be heard without overwhelming the platform. Also seek to capture discussion in side channels (e.g. chat) and feed them back into the mainstream discussion to ensure everyone is across the entire conversation. Consider that sessions may take longer and interactions may be less fluid, so schedule extra time for each segment, plus add extra breaks.
When done well, a PI planning event sets the tone for the rest of the interval. A collaborative effort to create a shared vision and mission goes a long way to motivate teams and develops a sense of ownership among stakeholders. With the right preparation and a solid understanding of what's expected from each party, your PI planning events should run smoothly and continue to improve each interval.
Take your PI planning to the next level with PM-Partners' SAFe Agile courses or seek guidance with our SAFe consultation services. Contact us online to find out if scaled agile is right for your organisation or learn how to adopt it, or call 1300 70 13 14 today.
SAFe and Scaled Agile Framework are registered trademarks of Scaled Agile, Inc.