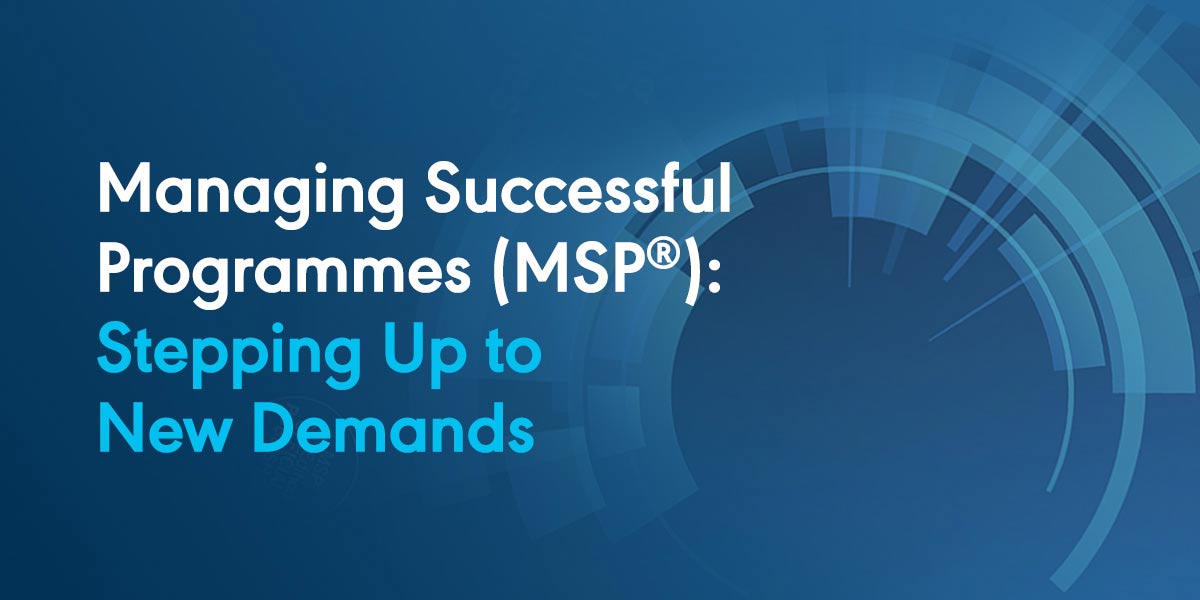 On the run up to our webinar Managing Successful Programmes (MSP®) 5th edition – the Official Release, Tracey Copland Head of Development at PM-Partners, revisits the origins of MSP, shares some of the thinking behind the update and provides a taste of what you can expect from the new design.
WHAT IS MANAGING SUCCESSFUL PROGRAMMES (MSP®)?
In an increasingly competitive landscape the ability to drive transformation has never been more vital. Managing Successful Programmes (MSP®) – as the name suggests – is a best practice guide to successfully delivering large change programmes (that's any change that cannot be accomplished via a single project).
An integrated framework of principles, governance themes and processes, it offers a proven roadmap to help organisations avoid common pitfalls and achieve outcomes of benefit, while actively engaging stakeholders.
A loyal community of MSP advocates pretty much speaks for itself. The methodology has been adopted by numerous organisations across the globe and, in turn, certification via MSP Foundation and MSP Practitioner qualifications has become increasingly valued.
WHY HAS IT CHANGED?
Given the widespread take up of MSP, 'why fix what isn't broken?' you may ask. The answer is, it's been nearly a decade since MSP was last updated and in that time the world has become a very different place.
The digital revolution, the rise of agile ways of working, and the increased uncertainty and disruption across markets mean that programme management must step up to new demands.
In response, MSP must also evolve. To this end, the new 5th edition is the product of extensive consultation, review and testing and draws on expert knowledge and real-life experiences from the public, private and charitable sectors. Every element has been challenged to ensure the guidance continues to provide the most relevant expertise in today's context.
WHAT'S NEW IN THE 5TH EDITION?
The essence of MSP in terms of the core concepts (principles, themes and processes) still forms the basis for the framework. However, to better reflect the reality, needs and challenges of any real-world change programme, the new design emphasises the following:
Flexibility – The new edition of MSP has focused on providing pragmatic and flexible guidance for a wide range of organisations and investments that will benefit from programme management.
Adaptability – The latest design is streamlined, ensuring all essential elements are covered but leaves scope for practitioners to tailor governance and plans to the needs of the organisation and environment.
Drivers for change – Instead of dividing programmes into 'types', the latest edition addresses common reasons, or drivers, for change including:
Innovation and growth
Organisational realignment
Effective delivery (including improving compliance)
Efficient delivery
The reality is that there are typically many reasons for investing in change and multiple ways to successfully configure a programme to achieve desired outcomes.
Responsiveness – The 5th edition adopts an incremental approach to the programme lifecycle, thus enabling enterprise agility. Organisations need to be flexible and responsive as new information arises, the external context changes, markets are disrupted and customer demands increase. MSP enables a cyclical progression towards the desired future state.
THE NEXT STEP
As the basis for the MSP Foundation and MSP Practitioner qualifications, the 5th edition is particularly essential reading for aspiring project professionals and brings with it a new updated set of examinations.
MSP certification is widely regarded as the next step for project managers and the go-to qualification for programme and business change managers. Gaining a greater understanding of the MSP framework and then learning to apply and tailor it can help practitioners work more effectively in large scale project or programme environments. What's more, getting certified has been shown to help boost career prospects and improve salary expectations.
Even for those with decades of project and programme experience, the latest MSP offering brings new insights and learnings to enhance their decision-making and enable the delivery of value to stakeholders.
With this update, MSP really has come into its own as a next generation methodology to help both new and current project professionals steer their organisations into the future.
To learn more about the Managing Successful Programmes (MSP®) courseware view the details here