What's the current state of Organisational Change Management?
Let's be honest, there's nothing 'new' about Change Management…
Yet, when we compare it with the other more mature disciplines like Project, Programme and Portfolio Management (all vehicles for bringing about change), as well as Business Analysis, it's obvious that it still has some serious catching up to do.
Take these PM-Partners PMO Survey results for instance.
Standards Used

PM-Partners PMO Survey 2013
Developing Appropriate Processes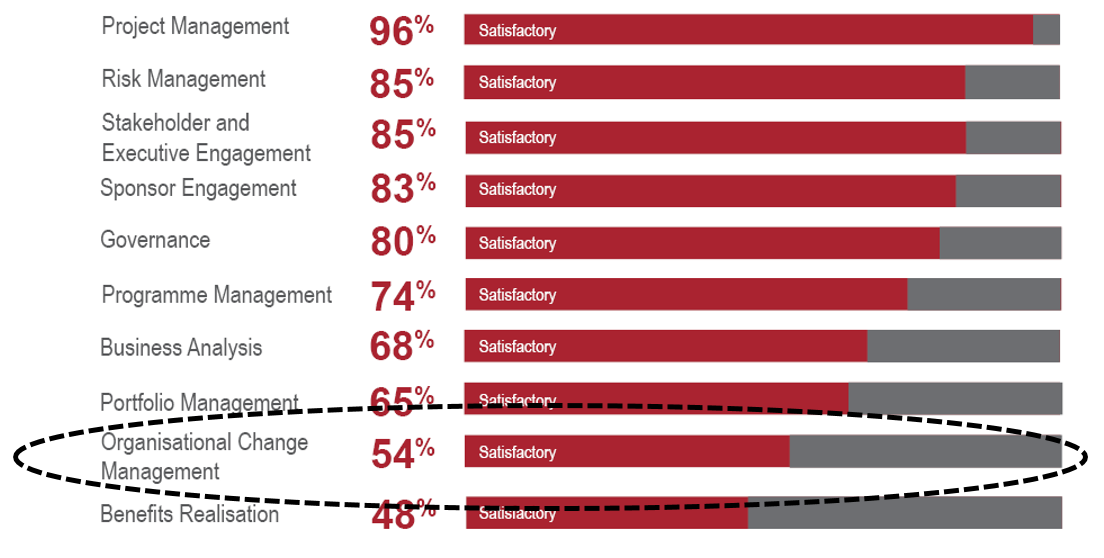 PM-Partners PMO Survey 2013
It's not all bad news though. Our PM-Partners PMO Survey also uncovered some very encouraging statistics! We understand from our clients that – often by learning the hard way – they are seeing a steep increase in reaping the rewards of the changes they bring about when they invest in Change Management, to ensure that change is embedded and ultimately, that benefits are realised.
Becoming an Agent of Change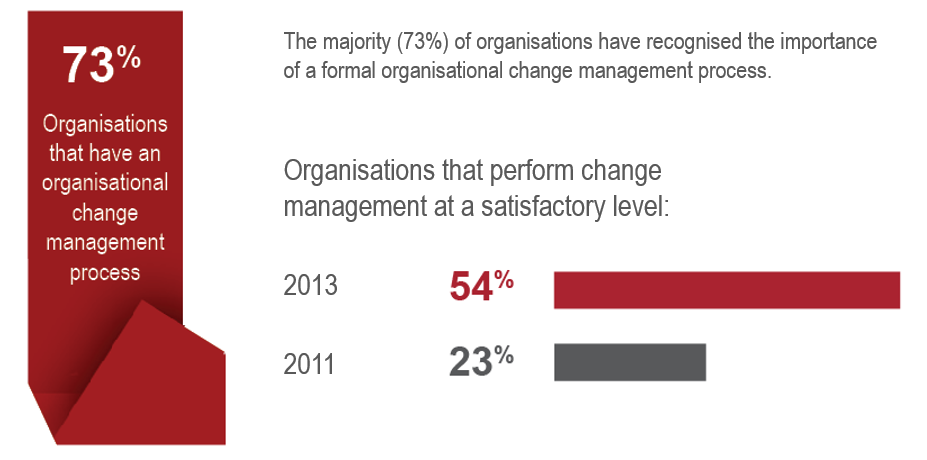 PM-Partners PMO Survey 2013
Thankfully we've come quite a distance since the old "Just send an email to the users with a few screenshots" conversation, and to use the old adage "If it's worth doing, it's worth planning for and doing well".
So that brings us to one of our favourite questions at PM-Partners, which is "Who IS doing it well?"
The answer we keep turning up is not that it happens by accident or is a lucky by-product of the project or programme that has brought it about, but those organisations and individuals who do it in a way that is both intentional and deliberate, and results from the application of mindful analysis.
So if it's not happening by mistake, this means planning!
We think it's worth stating upfront that planning and implementing change is not simply about writing a Communications Plan, but about the investment in a planning process that is proportional to the perceived importance of embedding that change in a business. Of course, this can be seen in the reverse, which is the risk and associated cost of not embedding the change successfully.
10 Vital Steps for Planning your Change and Setting up for Success

Understand your drivers for change
Harness the power of 'why?' And keep asking it. What benefit is to be gained or what risk is to be avoided. It's been proven time and time again that when people fundamentally understand the 'why', and grasp the greater context, we have the foundation built for a motivation to act – if strong leadership and integrity is what's guiding them there.
Shape your Vision and strategy, and communicate it clearly
Having understood the drivers for change can help you to produce and communicate a compelling Vision, whilst the areas affected by change can help you design and implement an effective change strategy. A Vision must paint a compelling picture of the end/desired state, must be succinct and memorable to its audience.
Assess the Impacts of the change
Before you can develop a truly effective change strategy, you need to analyse the implications and impacts of the change initiative across the business and its parts.
Develop an Effective Change Strategy
Once you have identified the drivers of your change, shaped the vision and assessed the impact, you can use the information to help you build your case for change, define the rationale for a compelling story, design your approach, shape your initial messages and create a sense of urgency to act!
Define success metrics (measurable objectives)
Think about how you're going to measure the effectiveness of your change strategy as you're carrying out the change, as well as after it is embedded. How will you get and use feedback? And if it's not working, what might you do to rectify it?
Understand your stakeholders
Identify, analyse, assess and engage stakeholders at the optimal levels. Once you understand them, map them out on a grid according to their power and influence. Assess and apportion the percentages of your overall communication energy to be spent to respective groups or individuals. Then measure their commitment… without guessing!
Measure organisational readiness
Plan and conduct a "temperature check" to ensure that the organisation (at all the appropriate levels) is ready and equipped to accept and engage with the change. Understand the human response to change, and the inevitable stages through which people will pass, and use this to inform your strategy.
Select the appropriate tools for communicating
Think about your audience/s. We love to conduct a facilitated group exercise with our clients, where they brainstorm all the possible (crazy and whacky even) modes and forms of communication and collaboration that they could possibly use throughout the change process. You'd be amazed at what you can come up with, just with a group of people and some Post-it® notes!
Devise the timeline and communications strategy
Draw a big timeline using a whiteboard or flipchart paper on the walls, and plot the major communications milestones. Fill this in with communications and project change activities.
Communicate the plan
Make your plans colourful and visible to your audience by displaying them in appropriate (and public/shared) locations. These plans should provide a visual impetus and inspire interest and motivation. Once again…Be inclusive and invite feedback. And if you're inviting feedback, act on it where you can!
Need help managing change within your organisation? Speak to our Change Consultants to find out how we can help you successfully implement change within your organisation. 1300 70 13 14.