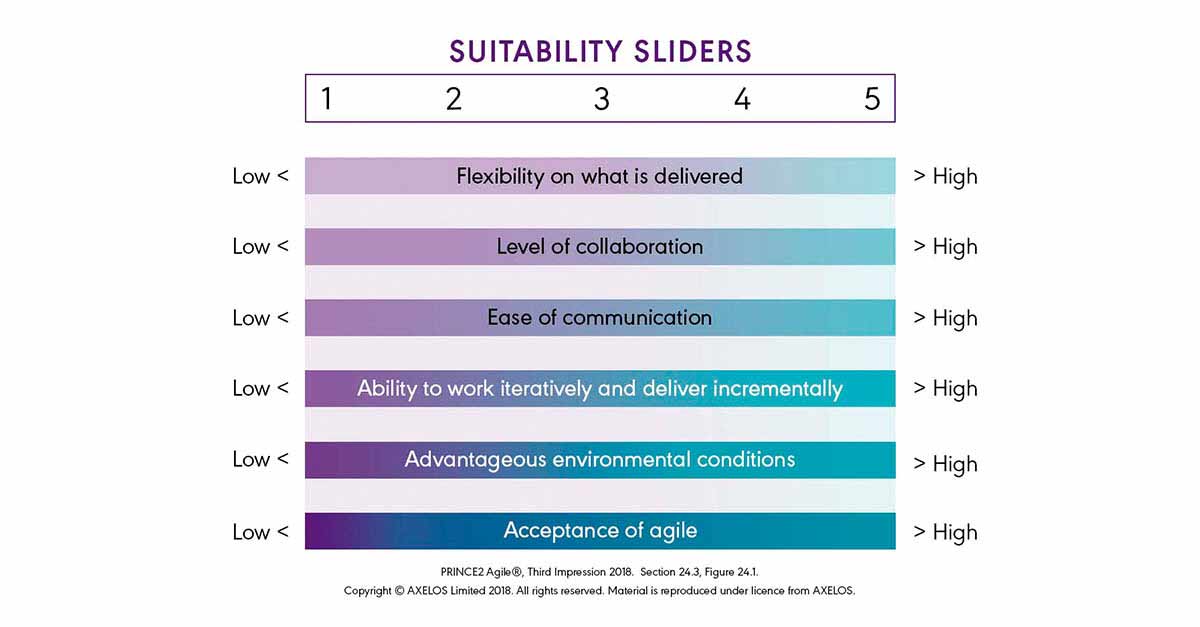 The reasons why business leaders want their teams to become more agile run the gamut. They may need their people to:
Be more responsive
Be flexible
Hit deadlines faster
Embrace change
Adapt and pivot as needed
Self-organise
Be collaborative
Bring new products and services to market quickly.
On top of all of these needs is the requirement for good project governance. So it's no wonder organisations rarely know which solution is best for their specific needs.
The good news is that PRINCE2 Agile® provides all these things and more. By combining the flexibility of agile ways of working with the most practised project management method globally (PRINCE2®), teams are given all the tools they will ever need.
But isn't 'Agile' only for IT projects?
Since the Agile Manifesto appeared some two decades ago, the use of 'agile' in relation to work has evolved significantly, and it is no longer restricted to the IT realm.
Agile is an incredibly broad term, viewed in different ways across the agile (and project) community. Agile can include various frameworks and methods (e.g. Scrum, AgilePM®), behaviours (e.g. being collaborative, trusting rather than blaming), concepts (e.g. working iteratively and incrementally) and techniques (e.g. burndown charts, retrospectives).
How agile can I be in my project?
PRINCE2 Agile views the use of agile not as an 'on / off' situation, but rather as a question of how much (or how little) it can be used according to the project and its context. Bottom line: agile frameworks, behaviours, concepts and techniques can be applied to any project.
Every project is different in a range of ways – from customer involvement and technology, to uncertainty, complexity and even how those involved understand or accept agile practices. PRINCE2 Agile will help you address these challenges from an agile perspective and accelerate the project in the most effective way.
How can I effectively apply project management?
PRINCE2 Agile provides an assessment tool used to evaluate the context of a project (i.e. its environment and working relationships). This tool can act as a guide for the project manager, helping them make informed decisions about 'how much' agile to use in any given project.
The assessment tool looks at six key areas:
Flexibility on what is delivered: How comfortable are stakeholders with the fact that change is inevitable? What will need to happen for everything to converge on an accurate product? Is everything prioritised and not all 'musts'?
Level of collaboration: Is there a one-team culture (not an 'us versus them' mentality)? Are there good working relationships both internally and externally?
Ease of communication: Is there a focus on face-to-face interaction (videoconferencing may be required where the team is physically dispersed), and is visual information readily available?
Ability to work iteratively and deliver incrementally: Is it easy to deliver benefits to the customer through partial deliveries of the final product? Is there a culture of learn, experiment and explore that exudes the notion of 'fail fast', 'learn fast'?
Advantageous environmental conditions: Is the overall working environment supportive of working in an agile way? Are people assigned full-time to the project with appropriate skills and efficient working platforms? Contracts and compliance should not be seen as restrictive.
Acceptance of agile: Are all stakeholders completely aware of the behaviours, concepts and techniques of what it means to 'work agile'? Have they been trained? Are they happy to work this way?
Agile suitability should be addressed at the very start of a project and throughout. The assessment tool then provides guidance on how to adjust and adapt PRINCE2® and agile strategies, facilitating a level of control and predictability without becoming overly prescriptive – while also benefiting from agile ways of working.