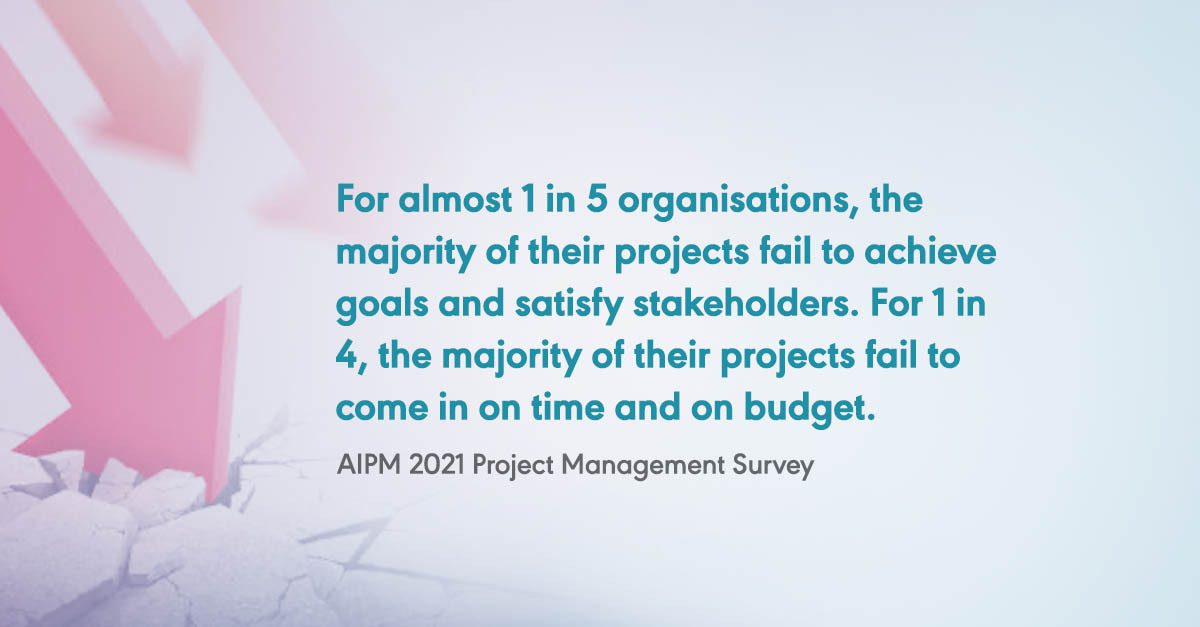 Is your organisation primed to deliver its projects successfully? Project, portfolio and delivery assurance can help to reduce the risk of failure and increase benefits realisation and delivery ROI. With the right methodology, it can also optimise future initiatives and, therefore, execution of strategy.
According to the Australian Institute of Project Management (AIPM), almost one in five organisations have the majority of their projects fail to achieve goals and satisfy stakeholders. In its 2021 Project Management Survey, AIPM revealed that just 81 per cent of survey respondents indicated 50 per cent or more of their organisation's projects were delivered 'in line with original goals and business intent'; 82 per cent 'with stakeholder satisfaction'. Additionally, more than one in four organisations had the majority of their projects fail to come in on time and on budget.
In the past, project failures were often worn by the organisation as an unfortunate part of the project process. Today, however, as the AIPM report shows, project failure has a corresponding impact on the organisation, with significant financial exposure at stake. Undergoing project, portfolio and delivery assurance can help reduce the risk of failure and set your organisation up to improve its future initiatives.
So what is project assurance? What should an effective assurance methodology typically entail? And what can you do to extract maximum value from your assurance efforts? Here, we cover all the fundamentals and show you how you can optimise your assurance to make ongoing improvements to the way you deliver, giving you confidence with future projects.
What is delivery assurance?
Effective delivery assurance is an impartial review or health check of your project, programme, or Agile initiative. Usually conducted by a party independent of the project, such as a PMO if conducted internally, or an external consultant, project assurance goes beyond 'ticking off' a checklist of paperwork.
Effective assurance objectively assesses the delivery methodology used, controls applied, reporting and governance, capacity and business alignment, as well as the business benefits, as per the business case. It should identify both strengths and weaknesses and be action-oriented so the organisation can take concrete steps to achieve delivery success.
Do all projects need assurance?
The simple answer is 'yes'. To achieve objectives, sponsors and delivery teams need to make well-informed decisions based on the actual performance and direction of an initiative. That said, assurance needs to be 'fit for purpose'. A small-scale, low-cost, low-risk and non-complex project can benefit from a lean peer review, while a complex, larger-scale project may require more rigorous reviews. Think risk-based assurance – the greater the impact of project failure on the business, the more project assurance in some form is non-negotiable.
The 3 pillars of project assurance
1. Initial assurance to set up for success
It's easy to be swept up in the excitement of a new project, which also makes it the perfect time to ground your organisation in the practicalities so the project can proceed with confidence. Initial assurance should focus on ensuring all critical resourcing, planning, analysis and estimating aspects have been appropriately completed.
Key questions asked:
Is the right structure and delivery model in place? Ensure the project management framework is appropriate, covered by a realistic governance structure.
Is the business case robust? Establish that there's shared belief that the project is worth doing, that it satisfies a real customer/business need.
Is the project set up to deliver on stated objectives? Set realistic expectations in terms of scope, time, cost, risk, quality, resourcing and benefits.
Have you filled your key roles? Make sure you assign the right people to the right positions. PM-Partners' Capability Assessments provide a wealth of data to help pinpoint and address skills and capabilities gaps within your teams. (Register for our Capability Hub to tap into this valuable resource).
Is there a common understanding of what project/delivery success means? Make sure the project has buy-in from stakeholders and commitment from the right people.
2. Mid-point health check
The dynamic nature of the project environment means you should expect changes – from expectations to resources to new stakeholders and external factors – that may challenge project success. It is therefore good practice to be proactive and undergo a mid-point health check that reviews project performance thus far and identifies actionable recommendations.
Key questions asked:
Are the decisions and assumptions made in the initial assurance still accurate? Ensure both deliverables and processes are fit for purpose.
Have all risks been identified and addressed? Focus on areas of greatest risk (such as commercial, compliance or legal) without ignoring other areas – there should be no surprises.
Is the project on track to deliver on the stated objectives? Focus on learnings throughout the project, not just at a key gate. Consider also major events/milestones and other significant approval points.
Do the project reports accurately reflect the progress of the project? Reports are not just for the sake of documentation. The information in them needs to be current and sufficient to enable informed decisions.
Are stakeholders engaged and supportive? Solicit feedback from key stakeholders, internal and external. What are they saying? What is the general feeling about the project? Ensure people are aware of and involved in the change journey.
3. Post-implementation review
Whether the project is delivered successfully, with challenges, or cancelled, we suggest that conducting a post-implementation review is a valuable process to capture lessons learnt. Typically completed at the end of a project, this review focuses on identifying strengths and challenges and providing actionable recommendations to assist future projects.
Key questions asked:
Is the project ready to close? Is there clarity and agreement that the project has achieved 'enough' or has nothing else material to contribute? Identify whether the project delivered on any/all of its stated objectives.
Are there any risks or issues that need to be addressed prior to project closure? If outstanding risks remain, ensure the appropriate people have been informed and there is clear ownership of these after the project.
Was stakeholder engagement and management effective? Capture post-project feedback from stakeholders.
How effective was the delivery approach? Evaluate if the 'methodology' aligned with the optimal approach and whether they added value.
Have lessons been captured, reviewed and distributed? Identify and record lessons learnt and potential improvements to delivery methodologies for next time. Ensure the organisation has the knowledge management capacity to pass these to the next project.
Are your documentation and financials up to date? How effective was the project in identifying scope change, identifying and reviewing other business benefits (either in this project or later) and managing their impact on financials?
What benefits have been realised to date? Is there a benefit realisation plan with agreed accountability? Are we on track to achieve the remaining benefits after project closure?
The project assurance review process
To facilitate capture of 360-degree feedback, an effective assurance review process involves contributions from the project sponsor, key stakeholders and the project team. At PM-Partners each assignment integrates documentation review and feedback with completion of interview and workshop sessions, complemented by assessment surveys where appropriate.
Our focus is on providing pragmatic and practical advice with actionable recommendations, taking into account the unique environment for each customer. To this end, the process usually entails the following five key steps, tailored to each client's specific needs: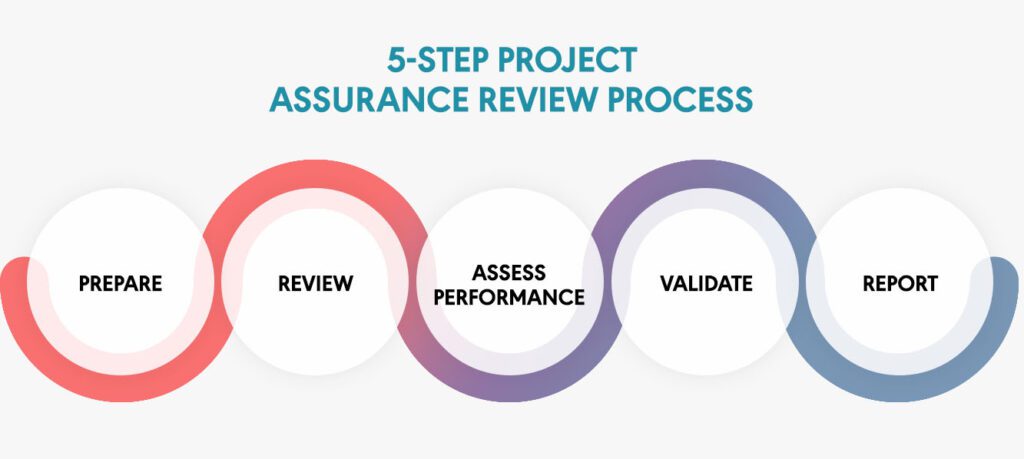 Prepare
Agree on the scope of the engagement with sponsor
Request relevant collateral
Agree on stakeholders and plan interviews
Review
Review collateral
Conduct interviews
Establish baselines
Identify areas for further investigation
Assess performance
Assess outcomes against objectives and intent
Assess functional effectiveness, including structures, roles and processes
Validate
Capture lessons learnt and outline recommendations
Validate findings with stakeholders
Report
Prepare final report including findings, themes for improvement, areas of success and recommendations for the future
Present report
With Continuous Assurance (below), review lifecycle or portfolio trends that require prioritised action.
The missing link to improving delivery
Engaging independent consultants for your project assurance review/s ensures the lessons learnt are candidly captured and that the recommendations are presented with reference to relevant standards and methods so they can be applied practicably in future projects and Agile initiatives.
This last step is crucial but, unfortunately, all too many organisations fail to fully action these assurance findings. As a result, they miss out on the opportunity to make broader, immediate improvements across the portfolio.
This is where PM-Partners' Continuous Assurance approach comes in. Working proactively in collaboration with your delivery teams, we connect regular assurance outputs and capability assessment findings with an ongoing improvements roadmap.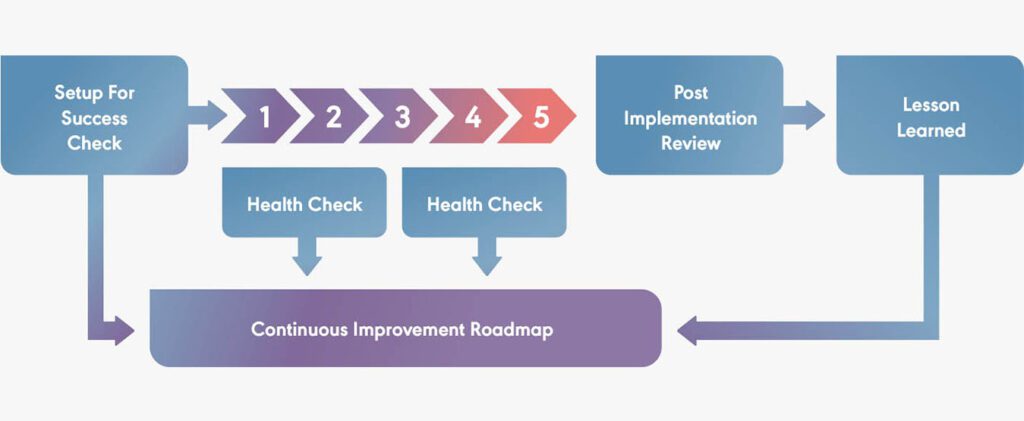 Instead of wasting valuable IP, this ensures findings and recommendations are put into play to address performance issues and uplift delivery capabilities, giving you peace of mind across your delivery calendar. Think of it as iterative, ongoing project assurance that embeds lessons learnt and drives improvements as initiatives progress. Essentially, Continuous Assurance increases value and ensures the assurance ROI is realised.
An effective project assurance process enables organisations to measure performance, gauge the health of projects, reduce risk and capture and utilise lessons learnt. Conducted properly, it gives you the tools you need to avoid poor decisions, respond to delivery trends and continually improve future delivery outcomes, regardless of the size of your projects, portfolios and organisational needs.
Looking for experienced project assurance experts? Find out more about our project assurance services and how we can help you deliver your projects more effectively. Contact us or call 1300 70 13 14 today.
This article is an updated, expanded version of an older piece: Delivering success with project assurance.