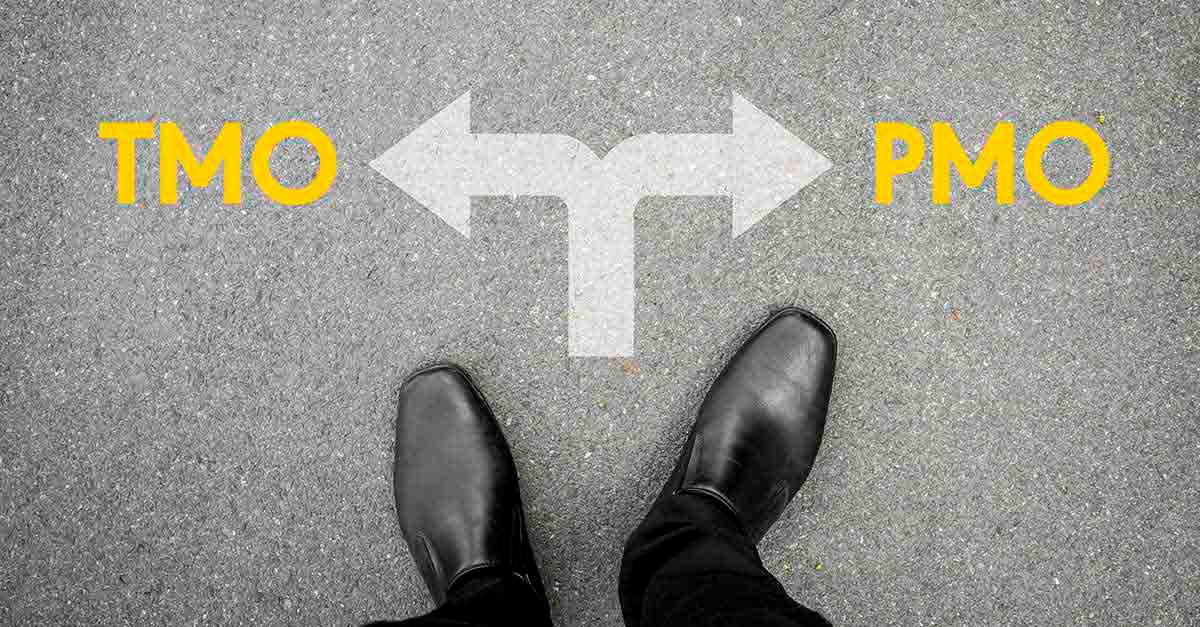 What sets a transformation office (TMO) apart from a project management office (PMO)? Steve Vanges, Senior Consultant at PM-Partners, unravels the differences in remit and intent, and considers why taking an 'either/or' approach can be detrimental to progress.
'Transformation' is one of the biggest buzzwords of the past decade, and with the added industry disruption caused by COVID, the word has practically cemented its place in everyday business speak. Unfortunately, however, it's largely misused.
As a result, we're increasingly seeing the creation of 'Transformation Offices' to support various forms of change. Often these bodies are established in lieu of, or to replace, a project management office (PMO). The danger is that without the necessary structures in place and a clear understanding of the remit and intent of each office, organisations will fail to realise the value and outcomes they intended, let alone achieve transformative change.
Here we explore the true definition of transformation, what a transformation office (TMO) really is, and how this differs to the established models of PMO/ePMO management. In particular, we consider how a TMO in the absence of PMO management could be holding back your organisation and propose a way of working that enables your business to implement broad scale change effectively and efficiently, at the same time as successfully executing non-transformation projects.
Transformation: not a project, but a way of working
From our observations, companies are applying the term 'transformation' to an array of changes, including:
Digital transformation: new technology platforms and go to market strategies
Strategic transformation: business model changes
Organisational transformation: changes to organisation structures and resource sourcing.
McKinsey proposes a stricter definition of Transformation (with a capital T):
"[Transformation is] an intense, organization-wide program to enhance performance (an earnings improvement of 25 per cent or more, for example) and to boost organizational health"
…and adds that true Transformation is the way to:
"deliver value, but also to accelerate the metabolic rate of decision making and execution within the company, as the start of a never-ending journey to continued excellence."
While a so-called 'digital transformation', for example, is typically limited to exploiting new digital opportunities, true Transformation (as defined above) is about fundamentally changing the way you work to deliver the full potential of what you already have. As long as there's confusion between the two it's easy to see how some organisations conflate the role of a transformation office with the role of an enterprise, portfolio, program and/or project office – and, as we'll discuss, hinder their ability to deliver.
TMO vs. PMO: Clarifying the differences
The transformation office
So what is a transformation office (TMO) and how does it differ from a typical PMO/ePMO? While there is no official standard for how you structure a TMO, to summarise McKinsey and our own experience, we can say that the key focus areas of a transformation office are:
Executive level engagement, ownership, transparency and accountability for transformation delivery
Tactical short interval review of valuation, gating and progress to benefits realisation
Maintaining accelerated momentum: clearing roadblocks and enabling opportunities to improve speed to value.
Broadly speaking then, a TMO exists to drive decision making and action, it is not concerned with how a transformation initiative is delivered.
The how falls within the PMO/ePMOs remit as an enabler of delivery/strategic change, and various widely accepted PMO definitions and constructs support this broad distinction.
The project management office
According to the PMBOK®Guide, for example, the project management office (PMO) is: "an organisational structure that standardizes the project-related governance processes and facilitates the sharing of resources, methodologies, tools and techniques. The responsibilities of a PMO can range from providing project management support to being responsible for the direct management of one or more projects" (Project Management Institute, A Guide to the Project Management Body of Knowledge, (PMBOK®Guide) – Fifth Edition, Project Management Institute Inc., 2013, Page 10).
Likewise, Portfolio, Programme and Project Offices (P3O®) – the globally recognised standard for PMOs published by AXELOS, is defined as "a best practice guidance that bridges the gap between the strategy and policy makers and the delivery arm of the organization." The P3O model provides a delivery and support structure, which may be delivered via:
Project or programme offices – temporary offices chiefly concerned with delivery governance of a specific project/s.
Portfolio office or Centre of Excellence (CoE) – permanent office with oversight of all projects/programmes within a department/section of the business, including investment governance, and standards, knowledge management, staff coaching (CoE).
Enterprise PMO (ePMO)/Corporate PMO – permanent office with oversight of all projects and programmes within the entire business, and may act as a CoE to set standards at an enterprise level.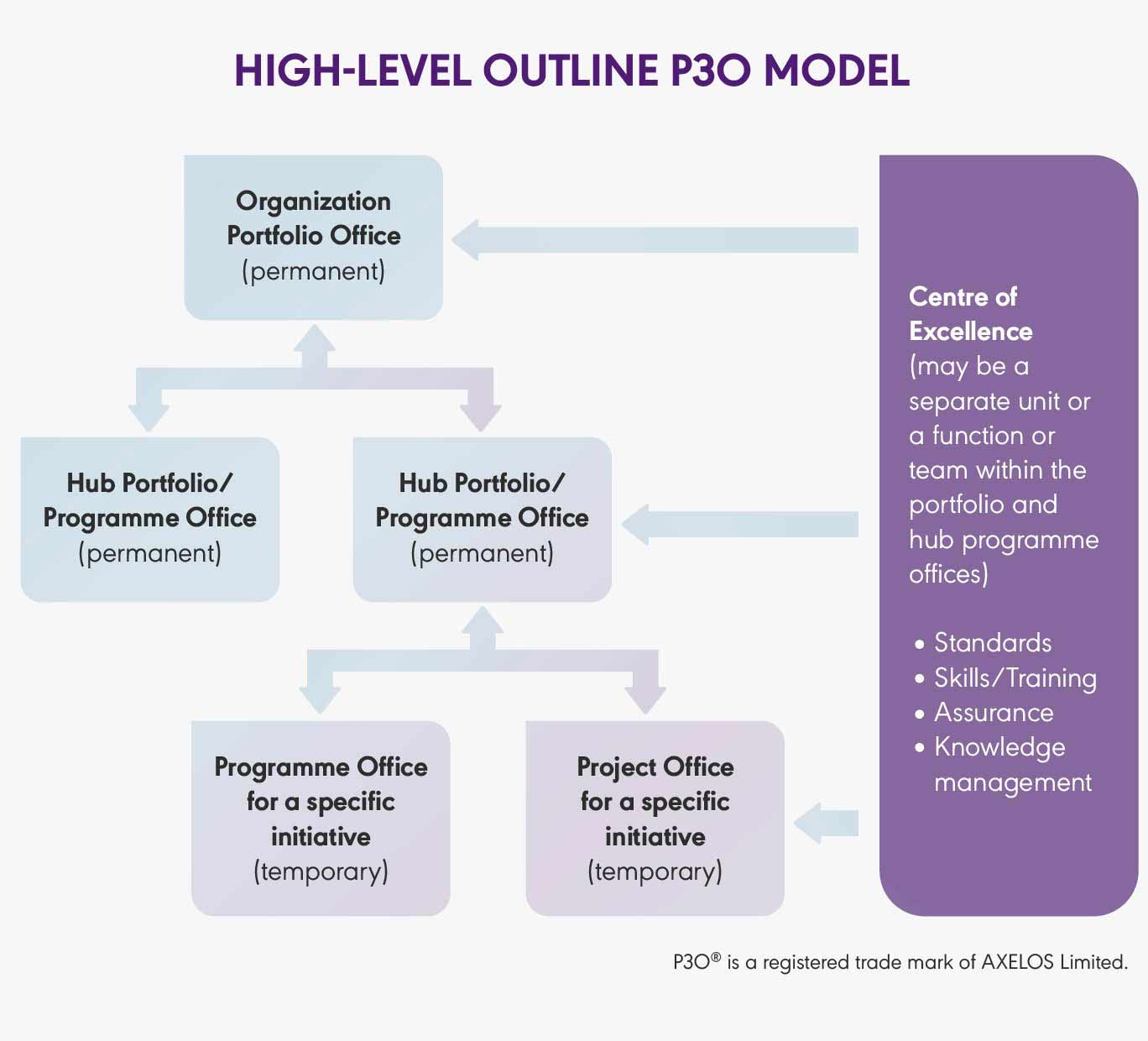 Depending on the intent and stage of maturity of the office, it may perform all of the functions mentioned above or a subset. Most importantly for the context of this article, the term 'transformation office' is absent from P3O.
Lost opportunity: choosing between a TMO and PMO
With the differences in remit and intent of the respective offices in mind we can see how choosing one over the other – particularly in specific scenarios – could impede progress.
First, let's consider the implications when a TMO is created to replace an organisation's PMO/s. In our experience, this typically concerns an enterprise PMO (ePMO), although this can extend to portfolio, programme and even project PMOs.
Considering the P3O PMO constructs, there are clearly some elements of overlap. But it's important to remember, as we've mentioned above, that a transformation office deliberately does not concern itself with how a transformation initiative is delivered. Specifically, this means it doesn't have a role in:
Detailed project delivery planning, management, reporting and support for individual projects (role of the P3O project PMO)
Detailed project delivery planning, management, reporting and support for collections of projects (role of the P3O program, portfolio and enterprise PMOs)
Definition of project delivery tools, methods and standards (role of the P3O program, portfolio and enterprise PMOs)
Performing assurance for project delivery (role of the P3O program, portfolio and enterprise PMOs).
As a result, operating a transformation office in the absence of a P3O aligned PMO hierarchy is likely to cause inefficient and/or ineffective transformation delivery.
This scenario can also lead to inadequate standardisation, reporting and support for the delivery of projects (including those that are transformative in nature).
On the flip side, when broad scale change is on the agenda – in addition to BAU projects/programmes – operating PMOs without a TMO is also ill advised. Considering the core aim and functions of a TMO around engaging executive, driving momentum and delivering value, this scenario can lead to a reduced sense of urgency and focus on key change activities, particularly among leaders.
A better way: the transformation office and PMOs working in harmony
Rather than choosing between them, it's our view that these two offices can augment the functions of the other with the transformation office working alongside your PMO/s.
The combined result of this collaborative synergy is more efficient and effective delivery both within and outside the transformation portfolio.
This is achieved in a number of ways, including:
Driving behaviours – As we've mentioned, an effective TMO drives improvements in executive level engagement, ownership, transparency and accountability. These senior leader behaviours are in complete alignment with P3O PMO operations, governance and delivery frameworks. As a result, organisations frequently also achieve an uplift in the delivery of non-transformation initiatives.
Complementary reporting – The reporting process led by a transformation office – in the form of tactical short interval reviews of progress and roadblocks to delivery – avoids rework and an administrative overhead and is an effective input to P3O's longer-paced status reporting, working group and steering committee constructs. This approach also complements these constructs that are typically more focused on the detailed how of delivery – an area, which as we've established, is generally not covered by a TMO.
Aligning valuation and gating – Additional benefits can also be derived due to the TMO-driven uplift in the rigour of values management and gating. This generally requires alignment with existing PMO defined framework gating, rather than a replacement or parallel classification. As a result, many organisations take the opportunity to align valuation measurement and gating with project delivery phase gating for all projects, further strengthening delivery of non-transformation projects.
Consistency of delivery – When all projects – non-transformation and transformation – follow a standardised PMO-managed delivery framework, efficient, consistent delivery is far more achievable. Where existing frameworks do not enable speed to value (using Agile or other methods) organisations will benefit by uplifting the delivery frameworks available to all projects.
The role and remit of a TMO versus a PMO has been muddied, particularly in recent times with the emphasis on 'transformations'. Once we're clear on the differences and can appreciate core areas of complement, it's clear that the functions of a TMO can support, strengthen and accelerate PMO operations.
Likewise, running TMO operations in alignment with a PMO defined, supported and governed delivery framework will help to achieve more successful delivery of all projects (waterfall, hybrid or Agile; transformation or otherwise). Harnessing strengths in this way, the overall result is greater potential for both BAU and true 'Transformation' initiatives to achieve the change and benefits they seek.
Interested in improving the outcomes delivered by your transformation office and PMOs? Contact the experts at PM-Partners today to find out how we can help, or call 1300 70 13 14.
PMI and PMBOK are registered marks of the Project Management Institute, Inc.
P3O® is a registered trade mark of AXELOS Limited.