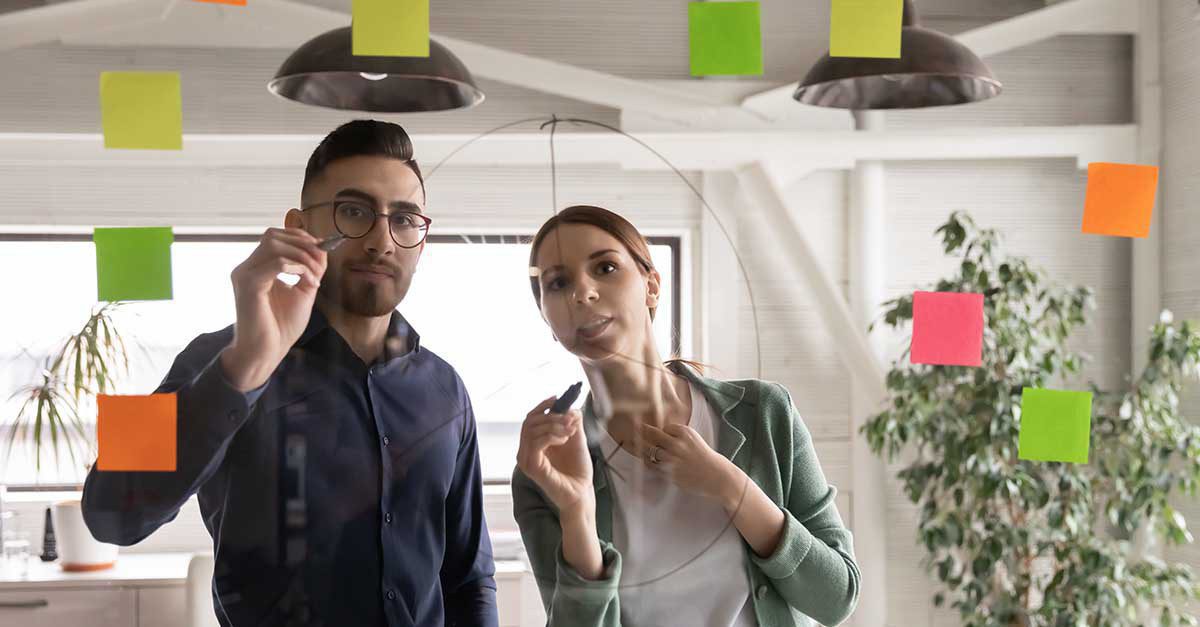 Agile is well known for its ability to deliver value in dynamic environments, which accounts for an increased adoption rate in recent years. However, organisations aren't seeing the success they expect. Here Grant Moore, PM-Partners Agile Transformation lead, discusses how to ensure you're getting the most from Agile.
Accelerating change has driven organisations towards Agile practices, a methodology designed to thrive in dynamic environments. According to a 2021 survey conducted by KPMG and the Australian Institute of Project Management (AIPM), 68 per cent of respondents' organisations have adopted Agile or Agile-hybrid practices; however, only 37 per cent indicated that organisational delivery capability had improved by adopting Agile.
Why the disparity between Agile adoption and successful delivery? In our experience, organisations often introduce Agile practices without properly building them into the organisational context. Transitioning to Agile requires an uplift in team members' skills and capabilities and a framework that's tailored to the organisation's needs, followed by support to ensure practices are properly embedded and are working as intended.
Here are three fundamentals organisations need in place for Agile delivery success:
1. The right Agile capabilities
Agile is not just a methodology to be implemented; the Agile mindset often requires behavioural and cultural change to be effective. As with any change, the adoption of Agile needs stakeholder buy-in from the people who will be using its practices to deliver, but especially from the executive level of the organisation to sponsor the new approaches.
Without buy-in, teams become disengaged from the practice, leading to poor implementation; without executive understanding and support, the Agile cohort spends valuable time and effort fighting the rest of the organisation for validity and resources, taking the focus away from delivering the intended outcomes.
According to the AIPM, to succeed, 'organisations need to ensure they have delivery professionals with the right skills, qualifications and experience in Agile who can drive adoption and understanding'.
Training is the first step, but it shouldn't be the organisation's only investment in capability-building. Having a coach to guide your people can help your team become more specialised. The Project Management Institute's 2021 Pulse survey reveals only 12 per cent of respondents indicate that the Agile coach role is staffed on a typical delivery team. If you're unable to assign a coach from within your team, consider upskilling appropriate team members via a reputable Agile coaching course, or seek external assistance.
2. The right Agile methodology and framework
Agile is an umbrella term for a spectrum of methodologies such as Lean, Scrum, Kanban, SAFe® (Scaled Agile) and PRINCE2 Agile® as well as a host of hybrid versions. The AIPM's report underscored 'the importance of adopting the approach best suited for the organisation's environment', so it's worth noting no single methodology can be implemented wholesale and expected to succeed without alignment with the organisation's structure and strategy.
Scrum, the most basic foundational Agile framework, is designed for product-led teams that value creativity and innovation where the iterative process is a discovery process.
SAFe® is best suited to applying Agile at an enterprise level where strategic, decision-making is required. In the traditional context, one could think of SAFe® as covering portfolio, programme and project levels.
Lean is embedded into all Agile frameworks, with a process-driven approach that maximises value and minimises waste.
While Agile values and principles are at the heart of all these Agile framework methods, the focus differs in each. An ill-suited methodology can leave teams frustrated and unable to progress, as well as destroy the credibility of Agile as a practice.
The best approach is to choose a global best practice framework most closely aligned to your organisations objectives and keep aligned to it as much as possible. Avoid developing bespoke frameworks – resourcing and tooling, for example, becomes difficult with bespoke frameworks.
Once you've chosen a suitable framework methodology, guide practitioners in its use with appropriate communication and training. The framework implementation and usage, aligned to the organisation's goals helps to ensure successful Agile delivery of new initiatives.
In the AIPM's 2020 report Project Delivery Performance in Australia, the top challenge with Agile was that 'organisational governance processes and structures do not support Agile delivery methods', with 24 per cent of respondents indicating this was an issue. This suggests that better tailoring may go some way to ensuring Agile is used, embedded and leads to improved delivery.
For those running both Agile and traditional portfolios, empowering your PMO to take a more proactive role in this regard is increasingly critical. This means supporting a move from a traditional office to a hybrid PMO with the right balance of processes and practices to facilitate the delivery of value across a range of delivery approaches.
3. The right Agile tools
Being derived from the same principles, it may seem as though Agile tools should be largely interchangeable – but that is not the case. There are at least as many tools as there are methodologies and picking an unsuitable one can delay the uptake of Agile, lead to inconsistencies in Agile application in the organisation, and hinder the scaling process once Agile grows beyond a single project or team.
Consider the following when choosing an Agile tool:
Is the tool aligned with the selected methodology?
Is the tool appropriate for all delivery teams using Agile?
Does the tool align with the organisation's governance processes and structures?
Is the tool compatible and/or able to be integrated with other systems the organisation uses?
How flexible is the tool? How flexible does it need to be?
Can the tool provide real-time, on-demand delivery performance metrics and dashboards at team only, and or programme Scaled Agile Release Train levels?
Can the tool scale with the organisation?
It is not uncommon to see organisations initially choose a low maturity Agile tool to get started, but it does not scale with the organisation, nor Agile maturity level. It's also not uncommon for organisations to use multiple tools across different teams, with no consistency in delivery performance metrics dashboards reporting in to the PMO or executives. Ultimately, they need to select a more mature enterprise Agile planning tool as they mature and scale and standardise Agile use. As such, it's best to obtain some early oversight into tool use and selection to streamline the uptake of Agile.
Agile adoption isn't a turnkey process, and organisations that treat it as a silver bullet are likely to be unimpressed by their success rates. To get the most from Agile, the transition is best managed like any change with:
Buy-in
Support
Strong adherence to organisational requirements
Measurable results, in this case via real-time, on-demand dashboards to PMO and executives to demonstrate Agile delivery ROI.
The earlier you adopt the Agile mindset and understand it's a responsive, gradual process that cycles through iterative learning and improvement, the sooner you'll recognise that the benefits are in the delivery process and not just at the end.
Want more from Agile? PM-Partners can help you embed skills and training and provide the necessary support so you get the most from your Agile practice. Call us on 1300 70 13 14 or contact us for an assessment of your needs.
SAFe and Scaled Agile Framework are registered trademarks of Scaled Agile, Inc.
PRINCE2 Agile® is a registered trade mark of AXELOS Limited, used under permission of AXELOS Limited. All rights reserved.