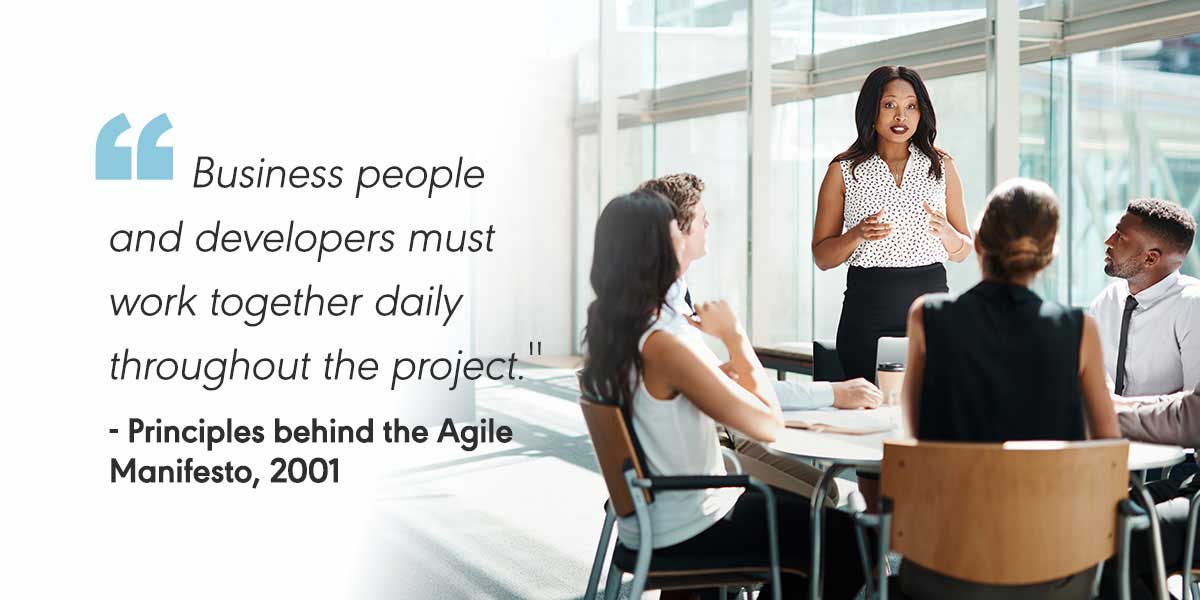 As organisations work through the economic devastation of COVID-19 and individuals leave their personal bunkers, many are wondering how to work in this new market. Even more importantly, they are trying to figure out how to become more productive in a post-COVID environment.
Jump online and you'll find a plethora of blogs and advocates urging decision-makers to adopt an agile approach. Not only will it help employees transition to newer, better ways of working, but organisations can improve their service delivery while crafting a culture that embraces the hybrid model.
Gaining an agile advantage within your existing business model
It all begins with a question. "Should we do Scrum?" or "Should we just Agile this?" or "What if we Kanban our processes more?" or "What is it we need to be agile about?"
From here, many people start to look at agile tools. They are searching for a silver bullet – one that will solve their organisational problems as well as ease the pain of leading remote teams (who they are finding are far more productive at home).
At PM-Partners, we are seeing more and more organisations encounter these types of scenarios. Business leaders are seeking answers to these critical questions so they can gain the agility they need to meet the demands of their new agile team.
We understand that leading a portfolio, program and team isn't the easiest job in today's climate. Between jumping from your daily BAU routine to being asked to join a dedicated Scrum environment, it can be a challenge just figuring out what to focus on first. So it's no wonder everyone is looking for the 'secret dashboard' or the agile tool.
The real solution and the ultimate agile tool
Much of the Agile system's success and tool reference is due to the technical aspects of working in an agile environment. Historically, this comes from Scrum, XP (Extreme Programming) and Kanban. However, the key to success across all these approaches is the emphasis on collaboration for agile project delivery. So, it seems the best agile tool we need for an agile environment is already available – and it is absolutely free.
The secret ingredient? Collaboration
This widely used term expresses the expectation in how both businesses and teams need to collaborate to solve challenges. While collaboration is central to nearly every environment, we find that having both parties is still sometimes difficult for projects, particularly agile ones, to reach the level of collaboration required for success.
This collaborative success has been identified in the Agile Manifesto. It places a huge emphasis on collaboration by having cross-functional teams engaging with the product and the customer during every aspect of the journey.
An agile tool for the customer and the provider
Collaborative engagement can provide a greater customer-centric view – one that ensures better output compared to more process-driven project-management types. Although collaboration is not limited to those working with Agile methodologies only, Agile development practices help organisations foster this into a collaborative culture, rather than a toxic, command-and-control culture.
By encouraging greater collaboration, you can develop a cohesive leadership team that is better able to deal with a fast-paced and ever-changing work environment. This will encourage team members, key stakeholders and clients to think more collaboratively over the project's life cycle – from inception right through to delivery – resulting in a product or service that is important rather than merely interesting.
What does collaboration mean for project delivery?
In order to drive a successful and agile project delivery, we need to surmise what collaboration means – not only from a development perspective, but from a management perspective as well. For starters, every organisation striving for a collaborative agile environment should be exhibiting these five attributes:
Servant leadership style.
Capability to embrace change.
Iterative delivery approach.
Product or service management, rather project management.
Customer-centricity (both internal and external).
What skills enable collaboration?
As your organisation starts to improve its communication and recognise the value in customer requirements, it's important to look at what else needs to improve.
At PM-Partners, we assess the various levels of team development and how collaboration plays into each stage to help your business empower its teams and its decision-making. As these empowered teams start to deliver more innovative results, which provide customer satisfaction and value, it generates ongoing confidence and trust between business and customer. Why? Because they see true value being delivered sustainably and consistently.
The bottom line is this: the best agile tool for your organisation is frequent customer collaboration. It will provide greater opportunities, help you deliver high-quality and innovative value consistently, and allow you to measure each project's success by gauging customer satisfaction levels. Over time, you will develop your own agile way of working where every member contributes to nimbler processes and, ultimately, successful project outcomes.
To find out more about how you can embrace the power of agile and ensure positive project outcomes, contact the experts at PM-Partners or call us on 1300 70 13 14 today.