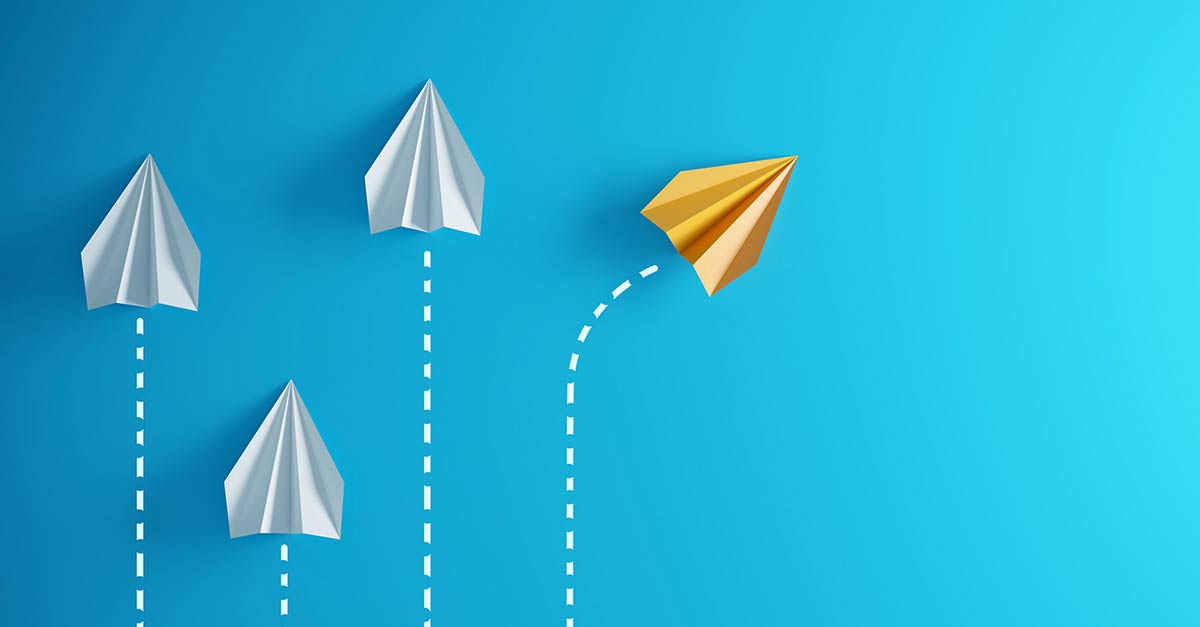 Even before the pandemic disrupted traditional business models, more and more organisations were seeing the value in agile methodologies and specialised frameworks like Scrum. But in addition to the business itself transforming, we're seeing the need for roles to change as well – particularly the role of business analyst (BA). Here, we explore why it could be a smart career move to transition from BA to product owner (PO).
How do business analysts and product owners differ?
The evolution of the business analyst in agile environments is intriguing in its own right, but there are still clear differences between the BA and the PO roles.
Business analysts are subject-matter experts with both business and technical nous, so it's not uncommon for them to define their own technical solutions. In contrast, because of the emphasis on self-organisation in Scrum, the product owner allows the development team to find the right solutions. The PO examines and defines the 'why' and the 'what', and then hands the reins to the development team to choose 'how' to deliver the product.
Product owners are also typically more strategic in their role. Whereas BAs are tactical and are more inwardly focused on developing solutions, product owners have a holistic view of the product and are able to support their Scrum team in various ways:
Developing a long-term vision for the product.
Understanding and evaluating market forces and potential roadblocks ahead.
Conducting market research.
Forging powerful relationships with both stakeholders and customers.
Creating and 'owning' the product's roadmap to success.
If making a sweeping career change seems like a risky move at this stage, there's always the option of 'testing the waters' by transitioning to a more agile business analyst. Becoming an AgileBA will help you be more flexible and proactive in your role as your organisation starts to fully embrace agile ways of working.
Transferrable skills from BA to PO
So what makes a business analyst so transferrable to the role of product owner? Here are some key skills:
Decision-making capabilities to derive real customer value and maximise ROI.
Good prioritisation skills that can evolve into faster decision-making on key project priorities.
Being able to facilitate shared understanding on a project across teams/departments.
The ability to model and analyse.
Recognising – and plugging – the skills gaps
While there are some solid transferrable skills, there are also gaps to be aware of. If you decide to take the leap into becoming a PO, make sure you focus on these three skills gaps:
Mindset: They may have similar skills, but the way BAs and POs think about a product are completely different. It may take some time and effort to shift your way of thinking from documentation-based to a more holistic mindset that prioritises collaboration and empowerment.
Product management: As a PO, you will need to avail yourself of the essential product management skills. Do you truly understand the product? What is it providing the customer with? How can it be changed to deliver more customer value?
Relationship building: You will need to communicate directly with customers and stakeholders to understand their needs. This, in turn, will help you shape the vision of the product so that the rest of your team understands what needs to happen next. It's defining that customer value that will help you create the ideal roadmap to success.
Where to next? Where a PO career can take you
Being armed with exceptional foresight and decision-making power, product owners have a wealth of career options at their disposal – particularly those with a history of successful projects behind them.
You might decide to get more involved with the project planning and management side of things by becoming certified in AgilePM® or PRINCE2®. Or perhaps you want to dive into the strategic and product-market-fit side of being a product owner – in which case, the role of product manager could well be in your future. As a product manager (business-as-usual role), you would typically drive the ongoing vision, strategy, experience and execution of a product, and would be ultimately responsible for the business success of a product.
A background as a business analyst and product owner is also a potential pathway to the C-suite – even the role of CEO. Famously, YouTube CEO Susan Wojcicki worked as product manager for Google. Understanding how to make a product successful and being dedicated to running a team, engaging customers and achieving a high ROI are all valuable attributes for an executive-level role.
To find out more about upskilling and transitioning to the role of product owner, contact the experts at PM-Partners or call us on 1300 70 13 14 today.