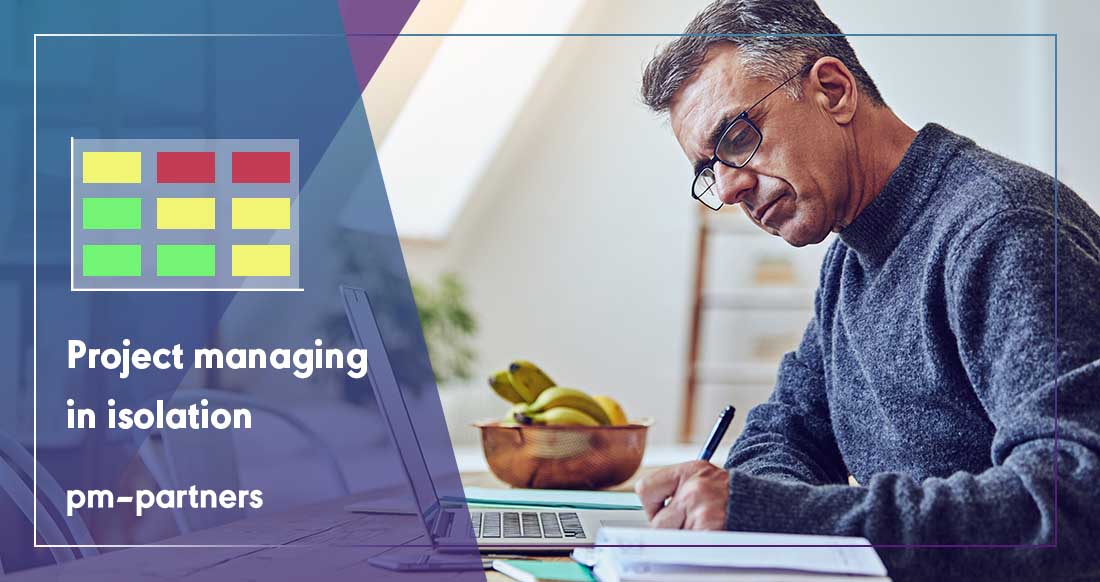 Right now, every project manager's risk register is filled with concerns about how their project team is managing – and maintaining consistency – throughout the current COVID-19 pandemic. The biggest concern in particular is the effect a remote-working environment is having on their projects.
This 'global pandemic risk' is indeed unique. We've never encountered anything like it before in our lifetimes, and it is burdening us with significant levels of uncertainty about how it will impact our lives, our livelihoods and our sense of normalcy – now and into the future.
PROJECT RISKS: A BURDEN OR AN OPPORTUNITY?
When assessing the risk's mitigation path, there are several ways of looking at it. First, will this major project risk be detrimental to our working lives, or will it become an opportunity? Moreover, will it be both of those things at different points along the project timeline, and therefore will we need to remain agile in order to react to new challenges?
If the sponsor wants the project to continue – understandably due to the organisation's investment in the initiative – then realistically we need to look at what can be achieved over the projected time period. That involves reviewing the current resources, planning out a strategy for completion, and providing confidence on how it will be achieved (or even whether it can be achieved). The assumption that business disruption from COVID-19 won't have any effect on project delivery, not to mention the business benefits, is simply unrealistic and needs to be acknowledged from the outset.
As project managers, we need to be confident when facing project risks. Why? Because we need to have the tenacity to make changes based on a range of factors:
Parsing new information that comes to light, sometimes unexpectedly.
Making informed decisions drawn from our own experiences.
Taking advice from others.
Thinking on our feet to ensure the project keeps moving.
Sometimes, however, there is no new information, no previous lessons learnt and no advice to draw on because the disruption (e.g. a COVID-19 pandemic) is so unknown. The upheaval of the typical working environment is so massive that it cannot be ignored. Considerations must be made regarding the change-impact assessment and plans for how the project outcome will be delivered to business stakeholders may need to be reassessed.
For IT projects, it is common for projects to allow remote working. Mixed distributed and centralised teams and stakeholders are often dispersed across state lines or even internationally. What is new is the forced, unplanned change that has tipped our world upside-down. It's made an immediate shift from working together in a centralised location with a set rhythm in place, to an environment where we are suddenly physically isolated – in many cases partway through a project, with remote working a certainty for the remainder of the project and the foreseeable future.
Having the right technology in place will assist in smoothing out this transition. A digital project set-up that leverages tools like Microsoft Teams, Jira and other collaborative technologies means everyday work as a unified project team has already been established – no matter where people are working from.
Detractors may ask: will a fully digital ecosystem compromise the quality of work, especially compared to what was achieved with everyone in the office? Most likely yes, but we have opportunities to make this work for the benefit of the project and our people over the long term.
WHAT ARE THE OBVIOUS IMPACTS?
There will be impacts in moving from face-to-face to videoconferencing for:
Internal project teams and vendor meetings in stand-ups (especially if a physical Kanban board is used).
Key business stakeholder engagement sessions, such as solution demonstrations and pilot sessions.
Project steering committee meetings.
Running of User Acceptance Testing (UAT) sessions.
Project celebrations and social interactions.
The lack of face-to-face time, the opportunity to read the room in a meeting, hallway chats, stopping by someone's desk for a conversation – these will all be inevitably compromised, and we will realise how much value these types of interactions bring to our projects.
HOW DO WE EQUIP OURSELVES FOR (SEMI-)PERMANENT REMOTE WORKING?
In these uncertain times, we need to check in with our project team and business stakeholders often. We need to truly understand their concerns about how we will work through this situation while still collaborating to deliver the project. We need to be open to trying new techniques and using different tools to work and engage with each other in a remote-working environment.
When it comes to new software and tools, project teams need two things readily available in order to perform at their peak: support and resources. We need to be aware of how productivity will be impacted by a drastic change in the work environment, especially for team members who are constantly in meetings and trying to juggle multiple project activities. So keep your eye out for new methods and technologies to support your team.
Set up a 'communication charter' that covers meetings and tools to use, such as:
Trello boards or Microsoft Teams Planner to track activities.
Zoom and Trello or Microsoft Teams for videoconferencing.
Chat through Microsoft Teams or Slack.
Whiteboarding through innovative cloud products like Miro to replace the lack of face-to-face time with idea-generating whiteboard sessions, as well as team planning and progress tracking.
There is also a place for regular project team retrospectives. These can be used to work out ways to fine-tune sessions to boost productivity and ensure everyone is being heard.
WHAT WILL SUCCESS LOOK LIKE FOR THE ENTIRE PROJECT TEAM?
With one of your key objectives being to keep all stakeholders aligned with the project objectives and to strengthen your team's effectiveness, success will depend on adaptability. That means understanding how everyone works, being self-aware and being receptive (and willing) to change what isn't working. Take the time to revise how you and your team are working, and tailor your strategy according to what could work best for an isolated project team.
We don't know how long remote working will last, and it will undoubtedly fragment and frustrate our teams at times. To enable project managers to secure the value outcome for their organisation, we need to continually reassess project risks and consider how we can turn potential downsides into opportunities. This is achieved through innovation and creativity to ensure projects remain viable and productive, and keep the team and stakeholders happy.
At the end of the project, and having navigated our project through such massive business disruption, the key lessons learnt from an independent post-implementation review (PIR) will provide insights on what can be done better next time and highlight positive learnings of what worked well. This will be invaluable for considerations that can be shared by one project manager to the next to lead successful projects in the future.
The ability to stay agile during a crisis is critical for project and business continuity and stakeholder confidence. A Post Implementation Review (PIR) on these current projects will be invaluable for the organisation. Speak to the experts at PM-Partners today about how we can help your team navigate remote working and its long-term impacts.