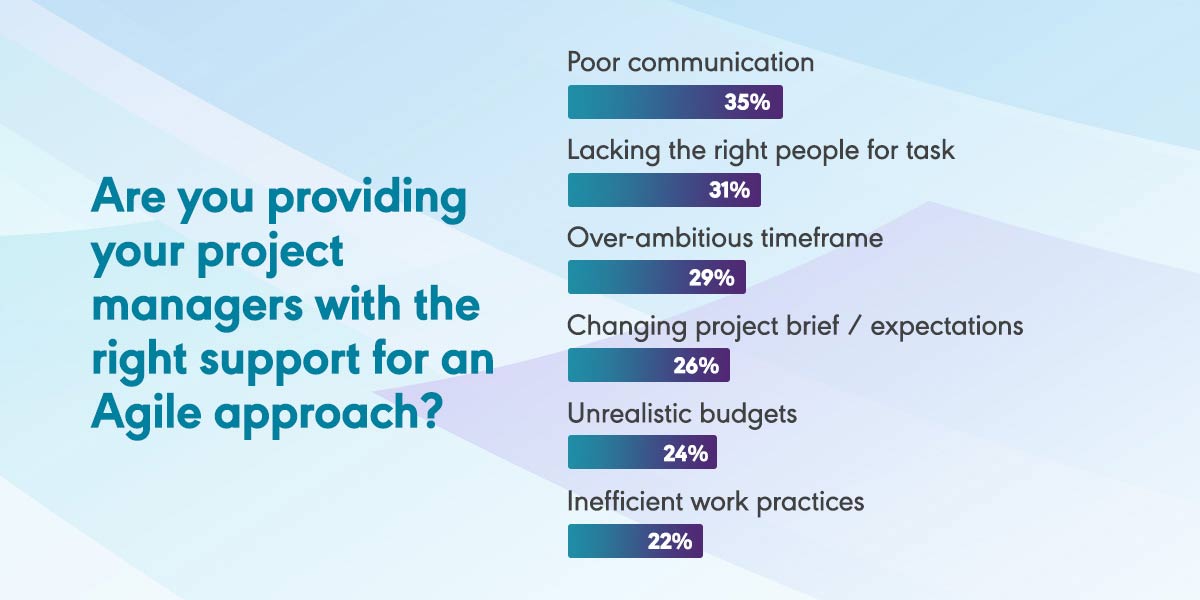 Agile adoption has become so prolific and such a common presence across organisations that its name has essentially reached 'buzzword status'.
Such has been its overuse – and, at times, misuse – that AXELOS's PPM Benchmark Study 2017 found that the word 'agile' was "used without a real understanding of what it meant. Worse, claiming a project was 'agile' was a way for project managers to justify doing whatever they chose, by-passing sign-off from senior managers."
The good news is that the tide is turning. From the 2019 version of AXELOS's study, they found that the buzzword-type opinion of Agile "was expressed much less frequently, and when it was, it was caveated with an expression of the belief that things would change in the near future."
AGILE ADOPTION FOR MODERN ORGANISATIONS
The Agile approach has spawned a range of approaches, strategies and frameworks that can help organisations and individuals leverage the power of becoming agile. But are organisations really starting to recognise its benefits, or has the initial hype of Agile turned to disappointment?
The PPM Benchmark Study 2019 found there's been a notable shift since the 2017 edition. Agile was less described as a 'buzzword' and rather 'maturing as a concept'.
Some of the benefits of Agile for project managers and their organisations include: higher customer satisfaction; greater transparency; speed of delivery; and improved quality. Combined, they create an overall feeling that an Agile approach can deliver a multitude of benefits – over both the short and long-term.
AGILE WAYS OF WORKING ELIMINATE COMMON CHALLENGES
Our hyper-connected world means professionals are being asked to deliver work faster than ever before – not to mention to a higher degree of quality. It's here where Agile can offer real solutions.
In the project space, for example, there's a keen focus on delivery. Where once a waterfall approach was more acceptable, it is no longer possible to work on a month-long project with zero customer interaction, no feedback cycles and the delivery of a product or service 12 months after the original specification was agreed. By that time, the world will have already moved on.
So Agile is the solution to this common problem. But doesn't that sound too good to be true? Is Agile genuinely supporting these project managers and their organisations?
THE REAL VALUE IN AGILE
If we look at the challenges that project managers face according to the AXELOS study, we find the major issues are poor communication, over-ambitious timeframes and unrealistic budgets. So how does Agile tackle these? Agile ways of working promote greater communication through transparency, short feedback cycles and collaboration. And these short feedback cycles and greater collaboration enable the ability to be flexible and respond to changing circumstances.
But they may also misunderstand what it is that Agile actually offers, as well as how and when it should be applied. Consider some common scenarios from Agile detractors: "You're only using Agile so we can change spec as much as you want," or "We're only working Agile so you can invest less and expect more." These, unfortunately, are not uncommon scenarios, and they can ultimately cause far more harm than good.
APPLYING AGILE INTELLIGENTLY
At PM-Partners we are in constant communication with organisations across all industries, and we've found that there is a fear of what failures Agile may be blamed for in the future, where those failures have very little to do with the approach and much more to do with the application.
Agile ways of working must be used appropriately depending on what it is you're trying to achieve and the environment in which you're working. By their very nature, best-practice approaches are not designed to be a silver bullet. Rather, they should be adopted in the most appropriate environment, by the people who know how to use them best, and adapted to specific requirements. This is true of every Agile approach, from Scrum through to PRINCE2 Agile® and SAFe.
The fear is that project managers are being put under increasing pressure to deliver their projects faster than ever before, under greater resource pressures than they've previously known, and while also looking to improve the overall quality of the outcomes. That's not to mention the growing pressure from customers who expect satisfaction.
Agile offers a very real solution, but if project managers are not equipped with the appropriate training, coaching and support tools, then failure is almost inevitable. That's why help from those with expertise in Agile is essential.
PRINCE2 AGILE® IS A REGISTERED TRADE MARK OF AXELOS LIMITED, USED UNDER PERMISSION OF AXELOS LIMITED. ALL RIGHTS RESERVED.
SMC™ IS A TRADEMARK OF SCRUMSTUDY.
SCALED AGILE FRAMEWORK® AND SAFE® ARE REGISTERED TRADE MARKS OF SCALED AGILE, INC.