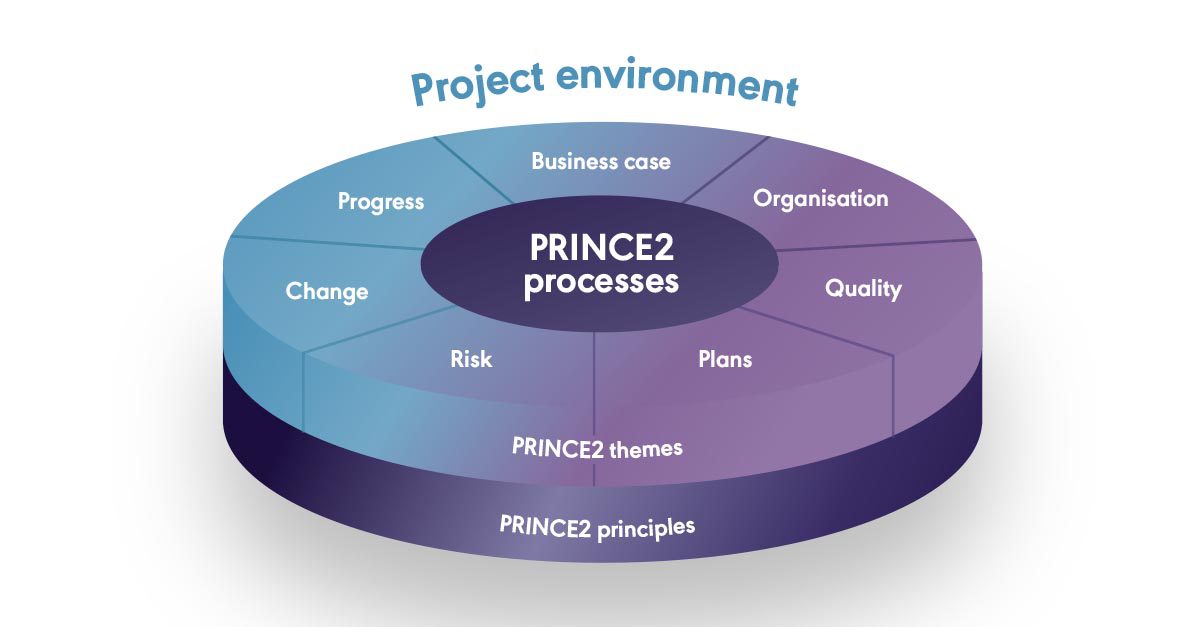 PRINCE2 is often cited as the most widely used project management method worldwide; it has become the international language for project management.
Consider the following:
There are more than 2.5 million pages referencing PRINCE2 on the web.
PRINCE2 is a proven best practice and governance method that is used in over 150 countries and in excess of 20,000 organizations.
The number of people taking PRINCE2 qualifications increases by 20% year on year.
There are over a million certified professionals working in close to 200 countries.
What do we know about PRINCE2?
PRINCE2 is a widely used project management method that over the years has developed a common language that crosses industry sectors from public to not-for-profit to private organisations. It has become a popular way of delivering projects in all areas, from IT to R&D, construction, product development, marketing and business transformation.
Whilst PRINCE2 is a project management method that provides a framework to work with, implementation of its techniques isn't something that is picked up by simply reading through the textbook. PRINCE2's power is based upon its interlinking elements and tailoring the method appropriately to external factors (such as corporate standards) and project factors (such as the size, complexity and risk of the project). To have an appreciation of PRINCE2, and when to use it appropriately, essentially comes down to experience and the lessons obtained from implementing the practice across various projects.
First an appreciation of the full "vanilla" PRINCE2 approach needs to be undertaken, then the method needs to be adapted (tailored) to enable a level of project management that does not overburden the project.
It's important to note that PRINCE2 is not about bureaucracy; the aim is to provide the appropriate controls and information for decision making – this is the power of PRINCE2 in practice.
The Cabinet Office succinctly reminds us that a key challenge of all organizations, private or public sector, small or large is to deliver change through managing projects successfully and consistently.
"This is where the PRINCE2 project management method adds real value,
as the globally recognized standard for delivering successful projects."
Managing Successful Projects with PRINCE2
PRINCE2 is about managing projects. It provides clear guidance on how to run a project and why it should be done this way, but it is not about doing the work. Then again, PRINCE2 integrates easily with other approaches that focus on 'doing' the work such as ITIL® or Agile.
The key is to understanding the real benefits of PRINCE2 as a project management method and how it can be advantageous to you and your organisation. Consider the following:
PRINCE2 benefits for organisations
PRINCE2 can be applied to any type of project in any industry – whatever the scale, complexity, geography or culture; whether the project is part of a programme or is being managed as a "stand-alone" project.
It provides explicit definitions of roles and responsibilities so that everyone understands what is expected of them and what to expect of others
PRINCE2 promotes consistency (not bureaucracy), continuous improvement (not re-inventing the wheel) and assurance, assessment and troubleshooting (not "big brother" watching you) for projects.
It provides a common terminology and vocabulary for all project participants, promoting effective and efficient communications.
PRINCE2 maintains a key strategic focus on the continuing viability of the project, rather than just seeing the completion of the project as an end in itself.
Adopting PRINCE2 promotes continuous improvement and learning.
PRINCE2 can be integrated with existing organizational / best practice delivery methods to best suit the environment.
PRINCE2 benefits for individuals
Provides an international project management language for project managers and stakeholders – used in more than 150 countries and available in 12 languages.
As the method is based on consistency of project management, it facilitates staff mobility and reduces the impact of project team changes and handovers.
Provides explicit recognition of the project responsibilities – ensuring all project participants understand their accountabilities and roles, including that of the project manager.
PRINCE2 Foundation and Practitioner accreditations internationally recognised – recognition that an individual has attained a level of knowledge in accordance with certification standards.
PRINCE2 accreditations are highly regarded and often attainment are minimum requirements for project positions (contract and permanent).
In essence, understanding, adopting, tailoring and embedding PRINCE2 is about effective risk management for your organization and yourself.
For more information on how PM-Partners can assist your business in up-skilling your staff around their current level of Project Management knowledge, contact us and speak to one of our qualified professional development consultants today.
PRINCE2® and ITIL® are registered Trade Marks of AXELOS Limited. All rights reserved.