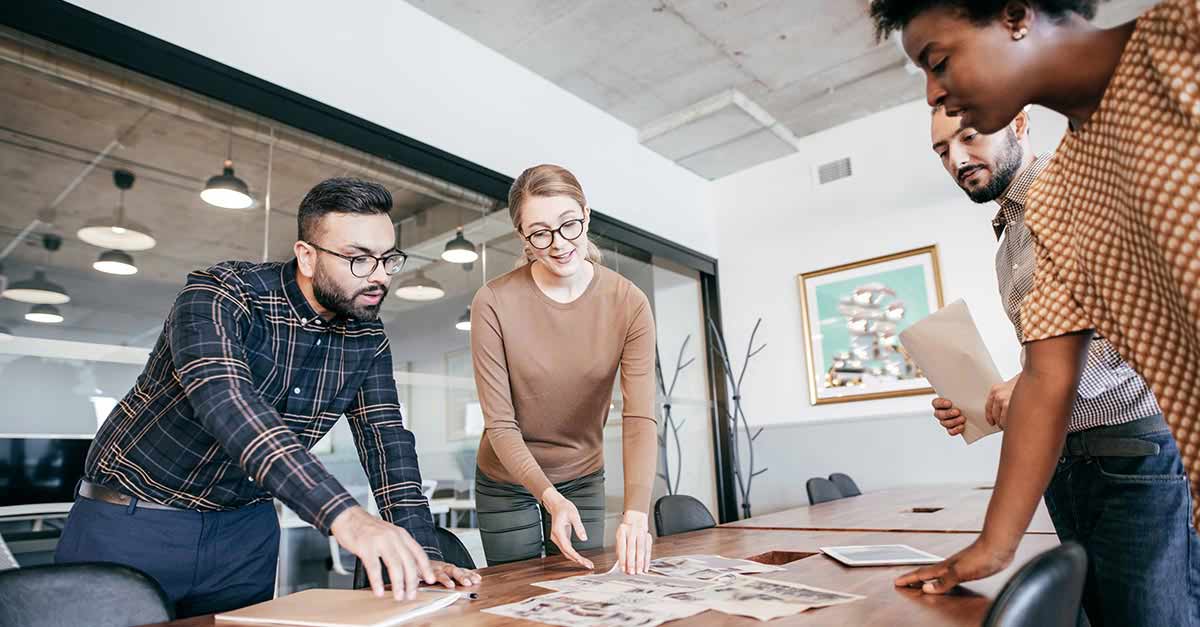 Could a career in project management be for you? We explore what being a PM entails, how to get accredited and why project management is such a diverse career choice.
Project managers are often the beating heart of an organisation. Not only are they responsible for the implementation of change within the company – taking care of everything from budgets to project documentation to resource planning and more – but they also act as a conduit between senior management and the project team to ensure the project is heading in the right direction.
Perhaps the biggest attraction of becoming a PM is the sheer diversity of roles you can adopt. To help you wrap your head around a project management career pathway, here's what you need to know.
Day-to-day responsibilities of PM roles
Regardless of the organisation you join, the role of project manager is about producing a product within the constraints of time, budget and quality, with a careful eye on scope and ensuring the mitigation of risk. This requires key skills in the areas of planning, governance, management and product delivery.
Some of the everyday tasks you can expect as a project manager include:
Planning your project's resources.
Creating and updating project plans.
Meeting with key stakeholders to understand deliverables, timeframes and responsibilities.
Marking milestones with senior management.
Communicating how the project is faring with clients and internal stakeholders.
Being flexible and moving team members around depending on their strengths and weaknesses.
Producing reports and maintaining key metrics.
Essential attributes for project management
If you aren't a people person, then project management may not be for you. This career is constantly people-facing, as you will be regularly liaising with your team, senior management, the C-suite, internal and external stakeholders, and of course the client or customer themselves. You will also be responsible for motivating people to deliver, to ensure the project is staying on-time and on-budget. Soft skills are therefore extremely important.
"I always liked the idea of projects because there's a defined start and finish. There's an achievement at the end of the successful project. I prefer the idea of that rather than just going into work and doing the same thing every day."

– Dominic Cain, project management consultant
Additional attributes that characterise a great PM include:
Always being flexible to roadblocks and changing team dynamics.
The ability to learn on-the-fly.
A firm understanding of human tendencies, which will inform how you manage your team's strengths and weaknesses.
Confidence as a team player, while never being one to shy away from leadership when required.
The ability to problem solve and think on your feet.
Championing the solution – becoming the go-to person.
Taking responsibility for the project – the good and the bad – without shifting blame to individuals.
Financial prowess in understanding margins, burn rates, deliverables and more.
Emma Stewart, Principal Consultant (Advisory) at PM-Partners, works across both agile and waterfall (traditional) delivery for top tier organisations. She agrees the emphasis is definitely on effective teamwork and not individual glory, but that the opportunity is still there to get back as much as you put in.
"It's about being part of a team that is creating an outcome to solve a need, and the shared commitment, drive, focus and high performance that teams bring together. I love encouraging a team to perform to their best and overcome new challenges every day. We all get a huge sense of pride and satisfaction when we successfully deliver and we're able to say, 'We did that, we made a difference'."
Recognised experience and certifications
Jump into our Project and Programme Management Pathway and you'll see the sheer variety of positions that you could take on throughout your PM career. To help you get there, though, you'll need to make sure you have enough experience and the relevant qualifications to beat out fellow candidates for the job.
A common myth is that you need to have a technical background. Good tech knowledge is certainly advantageous in certain circumstances but it's usually not a be all and end all and depends on the role. In fact, there are a variety of ways to forge a career in the field.
Emma Stewart began her project management career in logistics. "I was undertaking what I now recognise as projects, such as arranging the import and distribution of Christmas decorations to 2,500-plus stores across the UK and Ireland. Deadlines, budgets, stakeholder management, teamwork were all fundamental to successful delivery," she says.
Meanwhile, Dominic Cain, a successful project management consultant and one of PM Partners' training alumni, came into the profession after starting life as a McDonald's chef and then transitioning into operations management for restaurant franchises.
"I was managing restaurant bills and rolling out menus. At the time, I didn't know that was project management, I thought it was just work and that's what you did. But as time went on I moved into more management positions. I've held operations manager, general manager and commercial manager roles, so I've worked across a whole bunch of different roles within business."
As both Emma and Dominic would attest, combining hands-on experience with the right certifications and ongoing professional development will typically give you the capabilities you need to succeed.
Project Management Professional Development Program (Module 1 + 2) is a terrific way to start your career as a project professional, and as you advance you may have an interest in becoming a PRINCE2® Practitioner.
When looking to become certified as a more senior PM, preparing yourself with the Project Management Institute (PMI)® Exam Preparation and Project Management Institute Agile Certified Practitioner (PMI-ACP)® can help you nail the examination and make your resume stand out from the pack.
Potential sectors, companies and projects you might work on
You can find project managers in almost every industry but they are particularly sought after in construction, finance, information technology (IT), healthcare and the energy sectors. You won't be locked into these industries, however, and you can always move around to different roles depending on what the project is and where you currently are in your career.
There's typically a great deal of diversity in the projects you take on, too. "It can be anything from redesigning a process to make customers' lives easier, to implementing ground-breaking technology solutions that save lives," says Emma Stewart.
The fact that projects by nature are temporary also appeals to many people – you get to immerse yourself in a project before moving on to a whole new challenge. This was certainly a major drawcard for Dominic Cain: "I always liked the idea of projects because there's a defined start and finish. There's an achievement at the end of the successful project. I prefer the idea of that rather than just going into work and doing the same thing every day."
As you'll see from our Learning Pathway, a natural progression for some experienced PMs is the role of programme manager. A programme typically implies a set of interconnected projects, which build off one another to achieve a larger, long-term business objective. In this big-picture decision-making role, instead of running projects you'd be defining, directing and overseeing them.
For PMs who have been in the game for a while and want to explore different avenues where their skills are transferrable, there are also plenty of options. Project managers with an interest in a more iterative, collaborative approach would thrive in the world of agile, with roles such as a scrum master and agile project manager popular career choices. Elsewhere, a business analyst career can take you to new heights as a BA team lead, strategic BA and senior BA manager.
Growth outlook for the coming years
Whether you've been a PM for years or you're just exploring the world of project management, the future is looking very bright. According to PMI's report Project Management: Job Growth and Talent Gap, the project management-oriented labour force in seven project-oriented sectors is expected to grow by 33 per cent, or nearly 22 million new jobs, by 2027. This means employers will need nearly 88 million individuals in project management-oriented roles.
Handy resources for becoming a PM expert
Blogs
Podcasts
Books
FAQ about a career in project management
What is the typical work life for a project manager?
A career in PM may be demanding at times but it's also incredibly fulfilling. Some weeks you will be flying high in a project with the ideal team and happy stakeholders. At other times you will be challenged as you juggle multiple responsibilities and tight budgets while trying to hit an urgent deadline. Some project managers work long hours to ensure a project is on track and delivered to deadline, for example.
However, because there are so many different sub-roles within the project management space, you will most likely be able to find a position that suits your work-life balance while meeting your career needs.
What's the difference between a project manager and a programme manager?
Generally, a project manager is there to increase organisational effectiveness, manage the team's strengths and weaknesses, identify the needs and expectations of stakeholders, and ensure the project is delivered on-time and within the budget.
On the other hand, a programme manager typically directs, oversees and co-ordinates a group of interlinked projects and may use a more decisive management style, sticking to clearly set goals rather than being open to major changes. They understand the stakeholders' requirements, and do everything in their power to ensure the programme is delivered within those expectations and achieves the intended outcomes and benefits.
How much will I earn as a project or programme manager?
Those just starting out as part of a project team or in a junior role of project coordinator can expect to earn anywhere up to $100,000 within their first three years. As you gain more experience and move into positions like change manager or senior project manager, that salary range bumps up to $140,000. For the most experienced PMs, with positions like programme manager, portfolio manager, head of PMO or even PMO director, your salary can easily exceed $180,000.
Skilled project managers are in high demand across some of the biggest sectors in Australia. The best part is there's a huge diversity of roles to look into, so make sure you have the relevant accreditation and experience so you can stay ahead of the competition.
To find out more about a career in project management, take our Learning Pathways guided tour.